"My bwood is still awake." -Lucas (4 years old)

Uhhhhhhh… Your what? Your BLOOD? It's still awake? Oh… … … good?*
* I can't bring myself to tell him the it's bedtime for his blood. Way too creepy.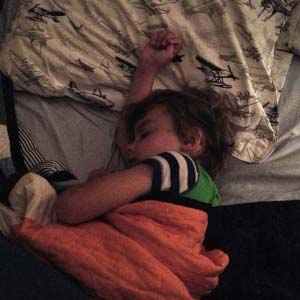 Shhhhhh… don't wake his blood.
They'll say anything to get out of going to bed, but at the same time you never know what kids are going to say next. You can strap on a drool bib while you try to figure it out or just laugh and hope it was okay to laugh. You'll know if wasn't. Their appalled look of offense and jutting lower lip will tell you it wasn't supposed to be funny.
Just keep trying. Your kid will teach you.
And remember, even blood gets sleepy. Eventually.
–
Previous My Kid Just Said
So You Think You Can Pee Pee Dance.
My Kid Just Said Facebook Page
This is where YOU can post YOUR kid's quotes. Go for it!
Follow us on Facebook. We say childish things all the time there.