"I don't need to go pee pee… I just dancing."
-Lucas (4 years old)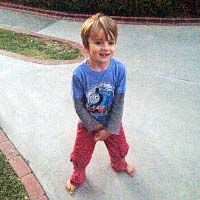 Just bustin' a move.
Ah the pee pee dance. It's the first dance we ever learn.
I guess I can't be sure, though. Maybe he is dancing. Gyrating while grabbing your crotch practically qualifies as a style of dance these days. I guess I should be thankful he doesn't twerk when he needs to take a dump.

–
Previous My Kid Just Said
Patriotism is cute when it comes from kids.
My Kid Just Said Facebook Page
This is where YOU can post YOUR kid's quotes. Go for it!
Follow us on Facebook. Watch us pee pee dance on social media.