"When I grow up, I don't want to grow up."
-Lucas (2013, 4 years old)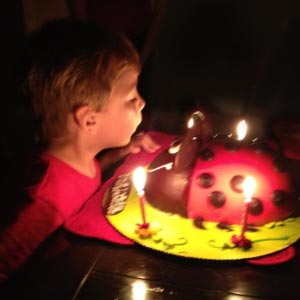 Wishing on your birthday cake to never grow up probably breaks some Wish Law but I'm good with that if that's the worst law he ever breaks.
It started with him standing on a step stool. He had as much chance of reaching a star as the branch he was trying to touch. He looked so bummed.
Encouraging him, I told him he'd be tall enough to reach it without a step stool when he grew up. After a long pause he said he didn't want to grow up when he grew up. I burst out laughing and then turned it into some mutant strangled sound when he leveled a disapproving look at my amusement. I went on to explain that he'd get bigger and be able to build things and drive cars and run faster and reach branches.
He looked back at the branch, like he was considering what I was saying as if it was a deal I was pitching, and he shook his head no. He wasn't buying what I was selling. He still didn't want to grow up and repeated it firmly.
I leaned forward with delight and a glint in my eye that I hope wasn't too insane, and whispered shouted, "You don't have to grow up!" like I was sharing a secret I could be incriminated for telling.
He thought, and then dismissed the conversation with, "I jus need a biggah wadder."

–
Previous My Kid Just Said
Poop Picasso?
My Kid Just Said Facebook Page
This is where YOU can post YOUR kid's quotes. Go for it!