"THERE'S ALWAYS ROOM FOR JELL-O." AND SINCE, FOR PARENTS, THERE'S ALWAYS ROOM FOR SLEEP BUT NEVER ACTUALLY ANY… WHAT IF WE COULD LIVE THE WILD LIFE, ENJOY DESSERT AND DRINK HIGH-POWERED ESPRESSO ALL AT ONCE IN THE FORM OF JELL-O SHOTS!?! WOOOOOOOOOOOOOOOOOOO!!!
DESSERT FOR BREAKFAST FINALLY MAKES SENSE!!
WATCH OUT, ENERGY DRINKS! WHO NEEDS "WINGS" WHEN PEOPLE CAN TWITCH AND VIBRATE SO FAST THEY BEGIN LEVITATING AS THEY ENJOY A DESSERT THAT WOULD MAKE ANY HIPSTER BARISTA WEEP POLKA DOTS IN THEIR LATTE FROM THE SHEER BEAUTY OF IT ALL! CAN YOU HEAR IT???? I CAN!!! I CAN HEAR THEIR TEARS!!! OH, BY THE WAY I'VE HAD A WHOLE PACKAGE TWO DAYS AGO! I'VE FORGOTTEN WHAT BLINKING IS LIKE! HAHAHAHAHAHA!*
* KEEP OUT OF THE REACH OF CHILDREN!!! AT ALL COSTS!!! NO MATTER WHAT!!!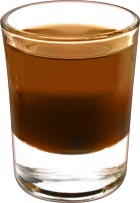 STAY AWAKE FOREVER!!!

–
More Bad Product Ideas
Thongies Diaper Thongs
Not your conventional diaper.
Baby Hjölster
This one is locked and loaded.
Tranquoo Child Anti-Wakefulness System
Now sleep has a trigger.
See All the Bad Product Ideas
Remember that these are not real products and therefore we can not be really be sued.