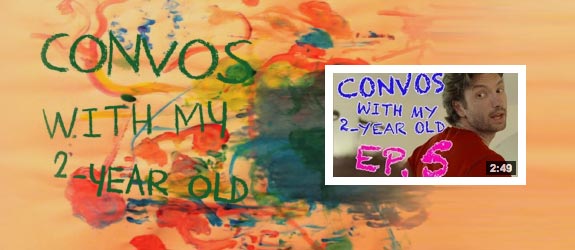 Anyone with "free-spitirted" kids (aka any kid) has experienced that moment when they tell you what to do when it's playtime. They're instructing you. Telling you how to do it RIGHT.
They might say anything, but it's the rules. What must be done. It's playtime. Their time.
Subscribe to ConvosWith2YrOld to follow the series. (Liking, favoriting and commenting help videos on YouTube, so go nuts.)
Watch Episode I (AGAIN, if you've already seen it, c'mon it's incredible.)
–
Follow us on Facebook. The best way to stay connected to our brand of madness.
See All the Convos With My 2yo Episodes
Watch them all. Do as you're told, it's playtime.
Toddler Terrorism
Yep. That's a thing.