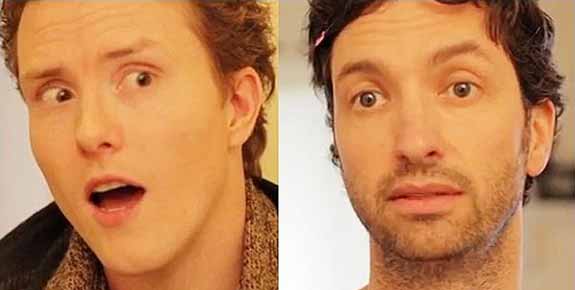 By now we've all seen Episode 1 and Episode 2 of "Convos With My 2 Year Old" — RIGHT?!
But have you met the dudes behind these INSANEXCELLENT, worldwide viral videos?
On Friday, we are doing a live interview with the creator and star of "Convos" — Mr. Matthew Clarke — as well as his comic genius co-star (and Matthew's daughter's stand-in), Mr. David Milchard. These two are going to head-to-head with both of us. We'll be discussing their explosive success, what the hell is wrong with them and why they made one of the best videos for parents and non-parents, just , ever.
And you know how we do with interviews. We don't believe in normal questions so anything goes. Like a toddler throwing a tantrum.
Live Chat with Matthew Clarke & David Milchard!
When: TO BE RESCHEDULED. GOOGLE HANGOUT CURRENTLY EXPERIENCING OUTAGE
Where: Right here, dudes! Come back to this post!
How: Come back here. Or watch on our YouTube page. If you're on Google plus, go here!

Subscribe to their channel: GO HERE!
LIKE "Convos With My 2 Year Old" on Facebook: GO HERE!
Got questions for Matthew or David? Post them here in the comments. We may read them with credit to you, of course, during the live chat!
– 
Follow us on Facebook. Cuz, like, we can right two…