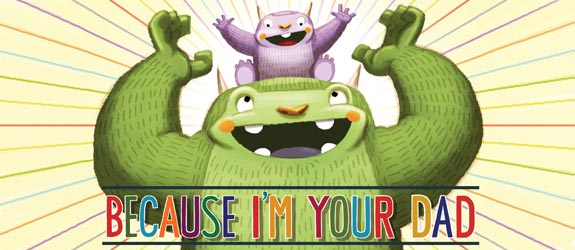 Today's book is by a man you may know for his first, or his last name.
Both are equally cool.
Ahmet Zappa is the son of late rock musician/composer, Frank Zappa. "Because I'm Your Dad" is apparently both a promise to his daughter, Halo, and a tribute to his happy childhood. The book is both loving and fun. In it, a father professes his hopes and dreams for a one-of-a-kind relationship with his child. Silliness and affection are both important components for me as a dad and in this book they are incomparable, much like the book's ending which seems to be a tribute to the Ahmet's father.
Here's a little video with thoughts about the book from me and my son…

Subscribe to our YouTube channel: CLICK HERE
When my wife had her baby shower we asked for everyone's favorite children's books in lieu of the regular gifts. For his first couple of birthdays, we asked for books again instead of toys. We have a thing for books in this house.
And here is a little trailer for the book from Ahmet…
My son absolutely enjoyed this one. Usually, he'll jump all over the story with questions or comments, and I love it when he does because I know he's listening. But this time, he was entranced. Zappa speaks my language, and I think Finn picked up on how much fun I was having simply reading the book.
WANNA BUY THIS BOOK NOW? GO HERE!
So, if you're thinking of giving the new dad or soon-to-be dad in your life a fun kid's book to read, grab this one. If you're a new dad or soon-to-be dad, pick up this training manual. You'll be glad you did. You can read more about the book here too.
You can follow Ahmet on Twitter here and his book on Facebook here. A book on Facebook? How meta!
–
Follow us on Facebook. Because we're your dads.
Disclosure: Hyperion gave us a book and sponsored this post but honestly we would've written about this amazing kid's book anyway. They didn't pay for our crazy though. You get that for free of charge! BECAUSE WE'RE YOUR DADS.