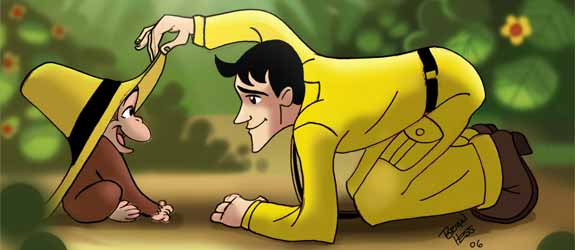 I was slacking on my dad duties after a weekend of camping and tin foil battles and pole dancing. I was beat.
So, I decided to sit on the couch with my son and watch some "Curious George" with him. I was a big fan of the books growing up but I always identified with the Man in the Yellow Hat, though he seemed to resemble more of a a victim than a caretaker. Most of us probably shook our heads and tsk tsk over what a meddlesome primate George could be.
We watched for about 15 minutes. My eyes might've closed for a slightly prolonged period of time, or four, but I kept waking up, staring at the trouble that George found himself in. Like one of those subliminal tapes, and through the powerful brainwashing of sleep deprivation, I stumbled on a revelation about the books and shows:
Curious George is as much a lesson for parents as it is for kids.
Sure, most of us watch the show or have read the pages, and we tell our kids something about being more prudent or being less impulsive. But I've been missing the hidden meaning of The Man in the Yellow Hat. Is he actually an aloof doofus? Or does he have virtues we've been missing, all along?
Patience with the curious
The Man in the Yellow hat practices a level of patience with George's curiosity that rivals the guards of Buckingham Palace. Unlike Dave from the Chipmunks, I've rarely (never?) heard him raise his voice. Perhaps TMitYH is a zen buddhist? PS: Like my acronym?
Kids can be adventurous
My son loves adventure. He thrives on it. Like a good soldier, he needs challenges and rewards. When he's bored or hungry or disinterested, he can be a handful. If I give him something to overcome, something that is real to him, he flourishes. George appears to need the same stimulus. He's a smart little monkey like my little monkeyman. A little tolerance allowing my son to be Indiana Jones is beneficial.
Kids want to help
They don't always, or mostly ever, or even EVER, do things the right way. So, we have to teach them. It's our job. But the help, however lacking in quality, is still help and it's our job to accept their willingness and show them how to help. Otherwise, we should be fired. A kid's helpfulness can show up as shoddy workmanship, but it has good intent… unless it's "Destructo Hour." George is a devoted helper, but his help usually gets him in even more trouble. Our mustard colored friend, let's George contribute well past the norm. Especially for a monkey.
Kids think they grasp things before they actually do
I could say the above about most people, myself included, but kids are quicker than they let on. Sometimes, they're too quick. They're eager and it gets in their way, and typically before they've arrived at an accurate conclusion. George is a flip fellow. He goes with what he knows. Kids roll the same way. Insisting on fuller understanding can help avoid problems with glibness, and at a certain point we have to insist on a mental speed limit, if only for us.
Parents need monkey help for all the monkey business
Who else is going to help us act like fools, to dance around or jump or play or run or embarrass ourselves publicly on a consistent basis? They are our gateway to the reliving of our own childhoods. Maybe we have kids so we can get back to the simplicity of who we are instead of the complex, crazed adults we've become. Adults are strange, fixed characters.
—
Curious George is a lesson in both dealing with trouble, and acceptance of our children in their time of need. We can learn patience and understanding when dealing with the little monkeys in our lives. It's not just about the shortcomings of curiosity.
It's about The Man with the Yellow Hat as much as it is about a monkey with too much time on his hands.
PS: Amazing header image by Hesstoons! Check out the rest of his images.
–
Follow us on Facebook. Aren't you a little curious about it?