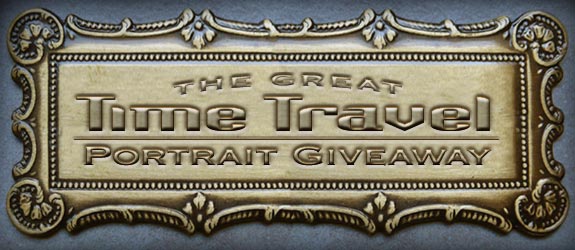 Today, you can enter for a chance to time travel, friends. And we're giving away
$2000 in prizes!
We're teaming up with Clorox for their 100th birthday with a crazyinsane Twitter party (see below) and also offering you a chance to step into a digital Delorean so you can see yourself in a picture photoshopped of you or someone special to you, in the time period of your choice!
This is one of the most unique giveaways in the entire history of all time ever.
Entries Have Closed for the Contest!
Good luck and see you at the Twitter Party tomorrow (5pm PST) for the winner announcement and portrait reveal!
You pick the period of time you'd like your portrait to time travel back to! If you win? Buckle up, buttercup! Where we're going, we won't need roads.
Sample Time Travel Portraits
The winner of the Great Time Travel Portrait giveaway here will be announced AND their photoshopped picture will be unveiled during the #Clorox100 Twitter Party!
Your Formal Twitter Party Invite

When: Friday, May 3rd, 2013 at 5-6pm PST / 8-9pm EST
Where: Follow the hashtag #Clorox100 on Twitter
How: To participate, use the party tag during the hour. Make sure you follow us (@howtobeadad) and Resourceful Mommy (@ResourcefulMom), as well as @Clorox.

$2000 PRIZES:
We will be giving away, by decade (with inflation, of course):
1913 – 2 x $20 cards
1920s – 2 x $40 cards
1930s – 2 x $60 cards
1940s – 2 x $80 cards
1950s – 2 x $100 cards
1960s – 2 x $125 cards
1970s – 2 x $150 cards
1980s – 2 x $175 cards
1990s – One $200 winner
2000 to now – One $300 winner