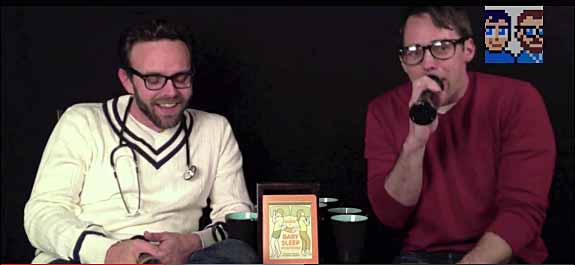 It has been two weeks since our book came out and we are still getting so much love from you all. It makes our insides bubbly. In the nice way.
We thought it would be a good idea to show off some of the awesome articles, photos and videos we've received, and humbly say thank YOU for helping us achieve this dream of ours.
So, without further ado… here's to you!
ARTICLES
Daily Candy Thinks We're Sexy
"Of course you'll have sex again. But only if she wants it. If she doesn't, she might want to consider co-sleeping. The hilarious Guide to Baby Sleep Positions, by dad bloggers Andy Herald and Charlie Capen (How to Be a Dad), diagrams the many complicated positions of sleeping with an infant. After all, they say laughter is an aphrodisiac."
San Francisco Chronicle Considers Us Anthrax
"Here's a tip. Do not — repeat — do not read this book in a public setting. If there was a scale that measured parental snort levels, "The Guide to Baby Sleep Positions" would go to 11."
Crappy Pictures Gives Us A Non-Crappy Shoutout
"So if you've ever co-slept (whether intentionally or reluctantly) you'll immediately recognize the 30 positions in this book and laugh. And the "side effects" and "tips" accompanying the illustrations? They're perfect."
Prudent Baby Likes Our Non-Prudent Book
"Inside Charlie and Andy will expand on these bedtime contortions with tips like this one: Some babies love to be swaddled. 'The Neck Scarf' might be your baby's way of returning the favor. Along with these positions, you'll find many more that you may be very familiar with."
BetaDad's Passive Aggressive Review
"I got so many copies, despite being butthurt about having to pay out of my pocket (to review the book), because I honestly think they'll make great baby shower gifts. Who wants a boring, serious book about breastfeeding, sign language, or cognitive development? Nobody, that's who. People need a good laugh during those bleak months following the birth of their children."
Surf & Sunshine Surfs The Sunshine Of Sleep
"Guide to Baby Sleep Positions: How Many of these have you done? New book is coming out – Grab a diaper & get ready to cry or pee into it."
Did we miss an article? WELL, THEN EMAIL US!
PHOTOS
[CLICK IMAGES TO ENLARGE]