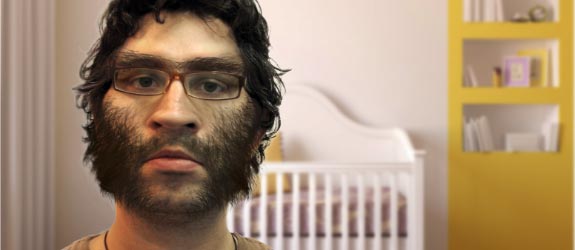 Not all dads fall in love with their baby right away. There, I said it.
Now, I can see that you're reaching for your pitchforks and torches. Before you light that Zippo, hear me out.
Dad blogs are full of images of new fathers cooing over their babies and expressing tearful joy over their new paternal role. And while that immediate, Hallmark-style love may be felt by a great number of new dads, it failed to appear in me right away. And I know I'm not that unique, despite what my grandmother once told me.
Don't get me wrong, I loved my boys from the second I saw their little fingers on the ultrasound monitor. But, my love initially manifested in a sort of hunter-gatherer thing. I had babies to care for, so my mind and heart snapped to behavior that left me fighting the urge to spear the neighbor's Welsh corgi for an evening feast cooked over an open fire at the mouth of our cave. And that cave was a lower unit in a duplex, so I'm sure the landlord would've taken issue.
That version of love—my version—appeared nowhere online. In my world, those tears of fatherly joy would get you singled out for dinner by a damn saber-toothed tiger. Besides, I had no time for joy. There were pelts to clean, yurts to build.
My love felt honest and powerful, but not warm and enriching as it seemed for all other new dads. This meant, to me, that I was doomed to live as a terrible and emotionally distant father. It took a visit from a friend to realize my reaction was more common than parenting sites had me believe. He described his love for his newborn daughter in dispassionate terms of protecting her, fighting for her. Caveman love. I saw I was not special and that my grandmother was, as I stated, a boldfaced liar.
Dads who experience what I did likely feel the same shame and fear while scanning the online community of parenting blogs. They see the beaming dads, they read the stories of unbridled joy, but don't identify.
But, can you imagine the reaction if any of them presented things as they actually were? If you're having trouble, just scan the comments section below this post.
Just as Facebook users statistically tend to present the best version of themselves, dad bloggers tend to present the best version of their fatherly experience. And though some may be honest about the challenges they face, none would dare admit their love for their newborn was anything but cinematic. And this polished claim causes harm by perpetuating an unrealistic standard, the same way porn made me think Pizza Delivery Man was the best job in the world.
The initial shock of suddenly being a dad wore off for me, eventually. As it did, I was able to connect with my deeply emotional love and, yes, tearful joy. Still, because of the false perfection presented by most parenting sites, I vowed to remain as honest as possible on my site about the unflattering emotions (or lack of emotions or seemingly wrong emotions) that can accompany fatherhood.
I also offer a recipe for a nice slow-roasted Welsh corgi.
---
| | |
| --- | --- |
| | The father of twin boys, David Vienna is a screenwriter, playwright, former journalist, and spent a few years writing for reality television. He covers parenting issues at TheDaddyComplex.com and The Huffington Post. |
---