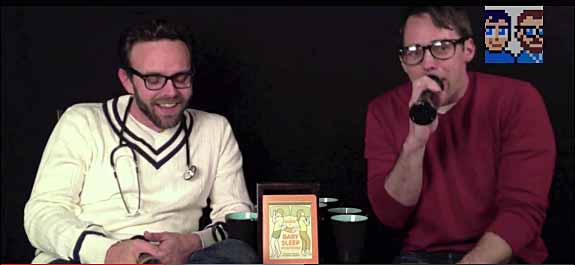 People often ask us about our creative process. Questions like:
"Are you as annoying in real life as you are in person?"
"Do you involve hand-to-hand combat in your decision-making?"
"Who really writes this stuff?"
Well, the answer to all of those questions is, ultimately, "42" and "sometimes."
But, for the first time ever, we're going to show you exactly how we made our book, and thus give you an exclusive look inside our working relationship.
Don't forget your barf bags, folks.

Having trouble watching the video? CLICK HERE!
So, there you have it. Our ridiculousness in all it's ugly glory.
And if you have noticed, we have a book coming out on April 2nd.
Thanks for your time!
–
Pre-Order the Book Now!
Perfect for baby showers, new parents and veteran parents (no one ever forgets), even as a joke contraceptive gift for couples without kids.
Calling All Baby Sleep Positions on Our Website (Not Including the Book)
View truckloads of the Baby Sleep Position sweet madness on our site.
Follow us on Facebook. It won't give your kids nightmares.