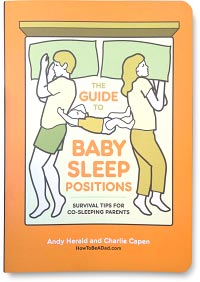 Yeah. It's actually a book now. Yeah. We pretty much can't believe it either.
---
Here's a sneak peak at one of the new Baby Sleep Positions from our book, The Guide to Baby Sleep Positions. Get the book for all new illustrations and some survival tips for co-sleeping!
---
Maybe you had "kids" before you had kids. Furbabies. Furry kids.
Pets are sort of like little kids, except they never grow up. And most of them lick themselves. A lot. Pets, I mean… Okay, maybe some kids are like that, too.
When you've got a family critter that comes into bed with you, you already have some idea of some of the sleep mayhem you'll encounter if you co-sleep with your little human.
You probably know that sudden earthquake when Rover leaps up onto the bed to play snoozing nighttime security guard to your night's "sleep,"* announcing himself by flogging you with a happy tail before settling down on a limb. Cats are more stealthy, so it might be a nostril-full of hair or a set of needlelike claws that announce their presence when they're navigating the unusable surface of the bedding, your pillow or your face.
Whatever your pet, when you co-sleep, pets in bed can quickly become pests in bed. Good luck!
* The word "sleep" gets ironic quotes from the time you become a parent to… forever.
–
Pre-Order the Book Now!
Perfect for baby showers, new parents and veteran parents (no one ever forgets), even as a joke contraceptive gift for couples without kids.
Calling All Baby Sleep Positions on Our Website (Not Including the Book)
View truckloads of the Baby Sleep Position sweet madness on our site.