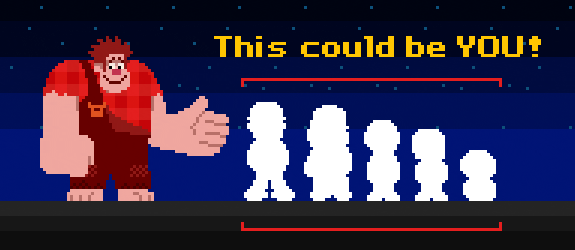 Something amazing is about to happen. Two somethings!
Two things that come together and create… way more than just two things. Two giveaways!

The First Amazing Something

The first thing is something new. A giveaway! Why is that new? Because it's a FLASH contest! Meaning there's not much time on this tick-tock-kaBOOM you better act fast kind of contest. The prize? A portrait created of your family in the pixelated style of CLASSIC 8-BIT VIDEO GAME CHARACTERS. (Enter to win below. Entries close on Tuesday, March 5, at 10pm PST)
The Second Amazing Something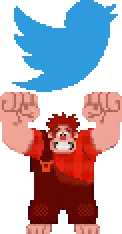 It's no secret we are pretty big fans of Wreck-It Ralph. We love animation, gaming and radness. So!
Next week (Wed. the 6th) we are having a Wreck-It Ralph themed Twitter Party featuring the actual inventor of Twitter Parties herself, Resourceful Mommy (@ResourcefulMom), as co-host. You win prizes there too by just replying to questions for chances to win prizes… IT'S LIKE A CONTEST WITHIN A CONTEST!
The Two Amazing Somethings TOGETHER!
The winner of the Classic Video Game Family contest here will be announced AND their pixelated portrait unveiled during the #WreckItRalphDad Twitter Party! (See the Twitter invite below for details.)
Your Formal Twitter Party Invite

When: Wednesday, March 6, 2013 at 5-6pm PST / 8-9pm EST
Where: Follow the hashtag #WreckItRalphDad on Twitter
How: To participate, use the party tag during the hour. Make sure you follow us (@howtobeadad) and Resourceful Mommy (@ResourcefulMom>), as well as @wreckitralph.
PRIZES: We will be giving away 20 Wreck-It Ralph DVD combo packages and 10 video game versions of the film!
You can buy your copy, JUST GO HERE!
---
Congratulations to the Burgins,
winners of the 8-bit Family Portrait Grand Prize!