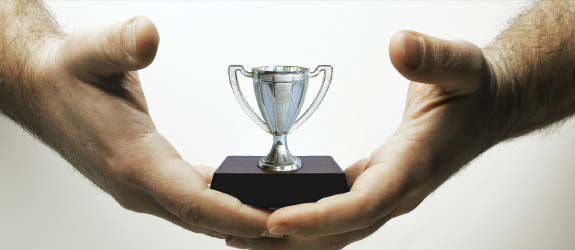 As a father, I am not perfect. In fact, I'm so far from perfect, if I wanted to overnight a letter to perfect, it would cost me $46.
David and the Vienna clan.
So, while I do strive for perfection, I think mediocrity serves as a realistic short-term goal for me—mostly because I've already attained it. I'm all for adding things to a list simply so I can check them off. See? Right there, that's another example of my mediocrity. Man, I'm good at this.
I think it would be a good idea for all parents to aim for mediocrity. It relieves some of the unnecessary stress created by paparazzi shots of Angelina Jolie and Brad Pitt and their four score children all getting to events on time and fully dressed. Comparing ourselves to other parents, especially those we see online and on TV, creates an unrealistic view of perfection, of what parenting should be.
I'm telling you right now, parenting cannot be that way. Jolie and Pitt have a flowing pipeline of money and a team of nannies and helpers that outnumber the North Korean infantry. Even comparing ourselves to the non-celebrity single mom at the grocery store with the angelic toddler sets us up for failure. What you see as a perfect parent is actually a frazzled, exhausted, disheveled woman who we just happened to catch while she's having a good day. I'll bet her day is so good and so rare, she's going to happily blog about it when she gets home while her toddler stuffs cat poop in the shower drain.
As for me, if I remember to brush my teeth in the morning, I consider it a victory. And perfection? Perfection is boring… Yes, I realize I said I strive for perfection. So, yes, I strive to be boring, but only because I assume boring people get a lot of sleep.
But let me take this from the other side: Mediocre parenting looks great when compared to awful parenting. Remember that guy who stuck his kid in the industrial clothes dryer? Next to that gem of a decision, the fact that I forgot to buy Valentine's Day cards for my boys to give out in class seems pretty tame or, at the very least, forgivable.
And hey, since I did dash out early Valentine's Day morning to snatch up all the cards the drug store has left, I think the whole affair qualifies as a mediocre parenting moment. I'm just sorry they were all out of the kid-friendly cards and I had to go with the Taken 2 variety pack I found in the bargain bin. Though, no one says "Be my Valentine" like Liam Neeson.

I guess what I'm trying to say is this: As long as you're not holding your preschooler down to tattoo their arm or letting your toddler drive you home from the bar, you can consider your parenting efforts a moderate success worth celebrating. Because you might not be perfect, but at least you don't suck.

---
| | |
| --- | --- |
| | The father of twin boys, David Vienna is a screenwriter, playwright, former journalist, and spent a few years writing for reality television. He covers parenting issues at TheDaddyComplex.com and The Huffington Post. |
---