So, we're on this insane road trip when my wife texts me a message. I'm sitting in the backseat of the car and zoning out with my earbuds. It was this image, and the words, "His words. Not mine."
All the onions. All the dust in my eyes.
He gave me a gift I've wanted my entire life, and I'm on the road. Away from home. Missing him like crazy.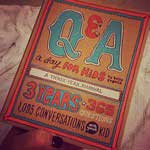 If you want to buy this cool book of questions for three years of your child's life, you can go do that here. It's worth it.