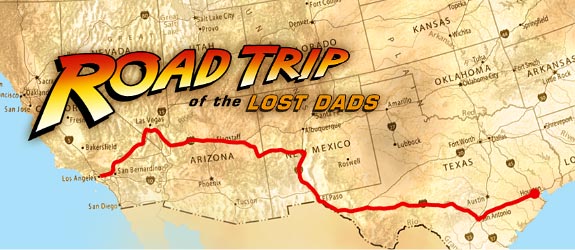 Today marks the start of our epic road trip to Dad 2.0 Summit with our good friend The Daddy Complex.
For 31 hours, and damn near 2000 miles, we will drive a 2013 Honda Crosstour loaned to us by Honda (the official vehicle sponsor of the conference), and journey halfway across America to arrive in Houston by Thursday. Or some jail along the way. Whichever.
The video below explains it a bit more…

Having trouble watching? CLICK HERE!
Want more of this music? Go to our friend Kyle Puccia AKA "Epic Mullet Guy" — CLICK HERE!
Coming with us will be a friend and cinematographer to capture in recorded history the insanity of our travels. So we don't have to monkey poke the buttons on the things with the lights and get a bunch of nostril angles and earthquakey handheld shots.
It's going to be a total disaster an adventure. We've planned some stops, including the Grand Canyon (someone is going to conquer a fear of heights), etc. but who knows where the our route will take us. We're just hoping to embarrass ourselves enough to make it entertaining for you.
Follow along with us online, and if we're in your area, we'll see if we can stop by and give you all high-fives!
How to Follow our Journey:
---
#HondaDads
Follow the hashtag on Twitter.
This will give you realtime updates from the road!
Twitter Twitter.com/HowToBeADad
You really ought to be following us on Twitter already.
Instagram Instagram.com/HowToBeADad
So you can see the weird pictures of all the weird stuff that we weird out about.
Facebook Facebook.com/HowToBeADad
Much less often, but we will update with photos, and short clips of our travels.

For information on The Daddy Complex:
---
Follow his blog:
http://www.thedaddycomplex.com
Follow his Twitter:
Twitter.com/TheDaddyComplex
Follow his Instagram:
Instagram.com/davidvienna
For information on the Honda Crosstour:
---
Honda website
Crosstour website
Honda FB page
Crosstour FB page
Twitter (@Honda)
Instagram
Music by: Kyle Puccia or on YouTube.
–
Disclosure/Disclaimer Thing: This is a promotional post for Honda. There are many like it but this one is ours. This post is our own opinion and our crazytalk DEFINITELY doesn't necessarily reflect the opinions of Honda or its staff. Who are obviously smart enough to hire us. They have given us a car to drive. They are also helping us make the video which is forthcoming. And by that we mean in the future.