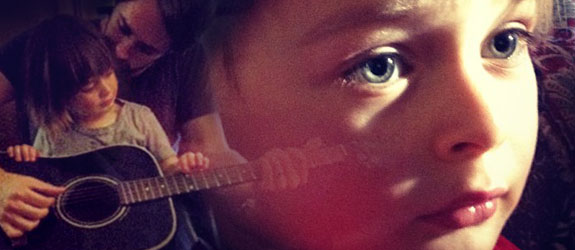 My son is now three years old and, on occasion, he still asks for some "cuddles." I will oblige as long as I can fit or carry him. And probably, force my hugs on him well beyond that…
Since he was born, he has fallen asleep in my arms on the couch, in our bed, in a wrap, a carrier, carrying him through the zoo and with his head on my shoulder, more times than I can count. He has grown accustomed to our contact. But the nighttime snuggles are extra special particularly because he has never been a good sleeper. Making him fall asleep and stay there, has required trying everything short of voodoo.
Our evening ritual typically consists, when Avara isn't the snooze pilot, of rocking in the glider after reading a book (and by that, I mean five to ten of them), his little hands playing with my stubbly face (at which point he says, "prickly" over and over), and then watching his eyes slowly droop closed. Watching your child fall asleep is magical. I don't care what people say.
But the lynchpin to this routine is something I've been doing since he was a swimming sea monkey in my wife's tummy. I've been singing to him. I'm not a good singer, barely passable, but I loved letting him know I was there, so it continued. It became the fastest way I knew to get him to close his eyelids. I've sung countless songs, and most of them are not on the sleepytime jukebox. I chose, instead, to substitute the standard fare for off-color, less traditional picks.
Here's a partial playlist:
Down in the Willow Garden
Raising Arizona is one of those formative movies for me. I watched it dozens of times with my father. We bonded over the Coens' brand of humor and agreed on the need to satirize anything that had an ounce of preciousness, while still being sincere. Holly Hunter sings this song to her little Nathan Jr. and it's both haunting and soothing in the same breath.
When I found out the lyrics, I was, um, surprised. But it's filled with so much history. I altered a few words here and there, but the melody is well worth it.
MLK
This album and its successor are hugely important pieces of musical history for me. If I didn't sing a U2 song to Finn, then I would probably get my head checked because the chances would be high that an alien was busy inhabiting my corpse.
Seriously.
I don't believe you have to brainwash your children with tired lullabies that have been sung over and over to children for decades. There are only a few books I want to read over and over. Why would I sing a song over and over, if it didn't have some impact on me?
ANYTHING BY PETER GABRIEL
This is one of Gabriel's many songs that deserve airtime at bedtime. Peter, if I may be so bold, has a knack for melody that can be whisper-sung to great effect.
And it makes me think of the loud music playing as I fell as on the couch in my parent's living room. Mom and Dad would dance, or sit reading and looking at records. These songs we sing countless times can be storytelling for us as much as our kids. They should be stories to entertain us so we can keep up the routine, the consistent attempts at getting our kids to sleep.
At least that's what it has been for me.
The backstory on this song is particularly pertinent to this site.
A few more for good measure:
Oh Brother Where Art Thou? – "Didn't Leave Nobody but the Baby"***Favorite***
John Lennon – "Jealous Guy"
Swell Season – Anything, but one would be "In These Arms"
:::
But this blog is nothing if not a place for me to take chances and try to scare the shit out of myself every now and then. In that effort, here is my poor excuse for a lullaby that I sing to my son, recorded at 1:43am. Please be nice. I'm not a singer. It's more about the sentiment because I wrote it for him when he was born.

WARNING: Do not play this for children. They will be haunted by nightmares until they die. My son just happens to know my voice.
::
My boy would wrap his arms around me for a hug, before he settled in, and look at me. We'd rock in that chair for a longer time than was practical. And then, as I sang, my voice would finally lower to a whisper, and I'd listen to the rhythm of his breathing. Wishing that his chest would never stop. That he would live forever, even if I did not.
Each night, that moment confirms the validity of my boyhood hope to be a father.