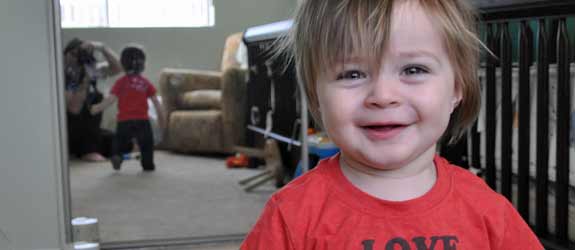 When I was 14, I read a passage by Homer (not the Simpson variety) and the words clung to my consciousness until, as last, they were forgotten. But I recall them now as if I'd authored them myself: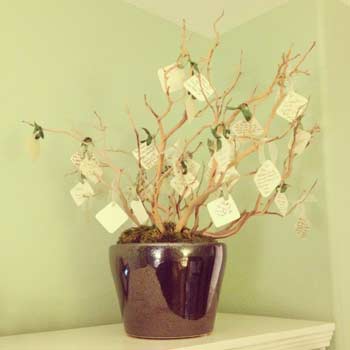 This is Finn's wish tree. At Avara's baby shower, everyone wrote their wishes for him.
"Everything is more beautiful
because we're doomed.
You will never be lovelier than you are now.
We will never be here again."
We're dismantling my son's room. It's no longer a nursery. Furniture reoriented, the subtraction of relics from his infancy, and a new coat of paint tomorrow, we usher in a new era with lodgings for a non-baby boy. I'm at the end of a road, looking at another unraveling beyond me. Sure, the sunset is far off but the distance reminds me the sun has a destination to return to. My son is growing up.
I'm sitting here pounding on these keys as loudly as I would a typewriter hoping maybe it'll make my words truer. I feel the blanket of exhaustion drag over my shoulders while old broadcasts of my father on his radio show play in the background. I want to tell you what I'm feeling in this moment, not the one before it.
Some items are going to be stored away, some given away to those who need them most. The possessions aren't what I'm clutching most tightly, though. It's my own childhood.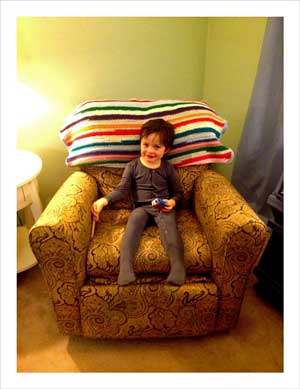 A big man in a big chair in a big world.
Like a past life regression, I'm encountering myself, guiding my child through my own childhood in his time with me. Disassembling the pieces of his infant life in the form of changing tables and stuffed animals tucked away, I remember each time my room was built and unmocked. I'm drunk on time ingested.
But as the quote reminds me, this is the beauty of it.
The splendor of human experience is its ever-changing movement. Some parts move too fast. Some parts move at their own pace. Time is just one of those things manipulated or manipulating us by of our point of view. The road looks longer when we consider that we are small. Time slips by through the death of our attention.
So, let's consider this time with our kids, though it may be long, much shorter so we can have ample clock-ticks to stand at the side of the road skipping rocks together.
Or, if you just need a break from parenting, remember the immortal words of the other great Homer:
"Kids are great. You can teach them to hate the things you hate and they practically raise themselves now-a-days, you know, with the internet and all."