C'mon. It's true. No disrespect to the elderly (or babies)!
We've all got parents, or grandparents, that are old—except for Ryan Seacrest maybe, I'm still not convinced he's human even if I can't prove it. Don't talk to me about his bellybutton, it was probably surgically added later. But I digress! Admittedly, being elderly has some unique characteristics. Aaaaaand if we're being honest, a good few of them seem to match up with the characteristics of babies.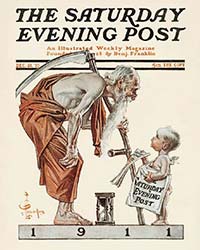 On a barely related note, the New Year's metaphor of Father Time (depicting the Old Year) and Baby New Year has been around for over a hundred years. Maybe even hundreds. Being born, growing up and then getting old is a common theme of the Universe. I won't break out into Elton John's Lion King anthem, but there really is a Circle of Life. Don't shoot the messenger, I didn't set this s##t up.
Anyway, I'm done being confusingly philosophical just after a holiday that is traditionally celebrated by people staying up really late and drinking heavily.
Look at it, though. Seniors vs. babies. Just you try to tell me it's not true.
Oh and uh… HAPPY NEW YEAR!
–
Facebook
Ring in the New Year with us on Facebook. We'll make last year look like the ass-end of the coming year.
Instructional Diagrams
They don't have an expiration date, so hopefully these never get old.