"You're the best mama ever."
-Finnegan (2012, 2.5 years old)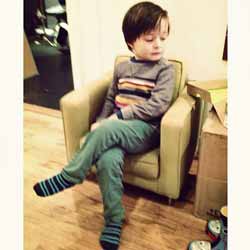 Gentleman Baby tries on shoes.
He was looking right at me. I guess he's right. I'm great at breastfeeding…
About 2 minutes later he said "Dada" and that was nice while it lasted.
–
Previous My Kid Just Said
PWESENT FO ME!
My Kid Just Said Facebook Page
This is where YOU can post YOUR kid's quotes. Go for it!