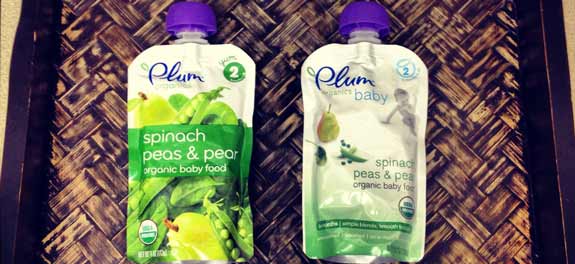 Crap. Stuff. Things… Product.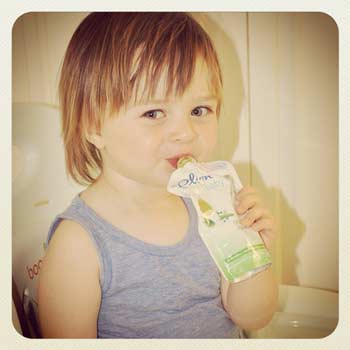 My boy Finn, a year ago during his pleasingly plump phase.
We digest tons of marketing and advertising whole, like hankering hot dog eating contestants. Brands sell it all: how scary babies are to handle, how deadly life can be trekking outside with your kids and how VITAL they are to our survival, day-to-day. They become the solutions to our problems, even problems we never knew we had.
I was listening to the news the other day (which sucks by the way, I don't recommend it as a parent), and they spoke of a new fad in product packaging: The Edible Container. The basic idea is, let's say, you buy an ice cream. The ice cream is housed in a chocolate shell that you can eat. No plastic wrapper. You inhale the ice cream, wash off the choco-cup and then eat that too. It saves the planet and you get fatter. Win/win.
You don't realize how addicted you are to commercial hypnotism until you become a breeder. Everything has to be the best, the fastest, the safest. And you need it. Now.
All that came crashing down the other day when Finn wouldn't eat a pouch of pureed organic vegetables by Plum Organics. He'd been eating them FOREVER but something had changed.
Same brand. Same flavor. One key difference.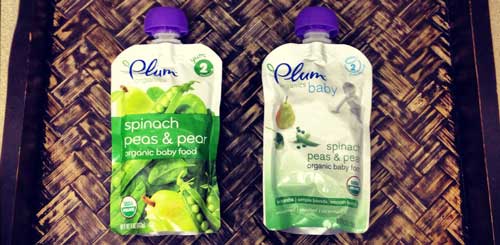 [ The new product is on the left, and the old, on the right. ]
They just changed the packaging. That was all it took and as far as eating goes, no dice. Of any kind. I found his refusal so annoying and ridiculous that I was on the edge of losing my cool. We were out and about at the time. I needed him to chow down on some veggies, lest he start turning into a human meatsicle.
But then I started thinking, 'What if I'm being tricked in the same way? What if I do the same thing he's doing, only justifiably since I'm an adult?' Kids are funny that way. They teach you things by being smaller representations of yourself.
So, I thought about it, and remembered back to when I NEEDED things and HATED things. I needed Teenage Mutant Ninja Turtle Cereal (and wasn't ever allowed it). I hated everything that came from Real Foods (a Whole Foods precursor back in the 1980′s) in San Francisco. Marketers had me wrapped around their finger on packaging and commercials alone. I threw tantrums to get what I wanted because they had hypnotized me. I became their top salesperson.
So, now we're all adults and pretending we're smarter than that. Meanwhile, I'm trying to feed my kid some vegetable puree and he simply won't eat it because the plastic is colored differently, albeit more artistically. I try to get him to just taste it, proving that his prejudice is false. He won't do it. I try to switch the pouches behind my back, because he obviously wants to eat it, and won't be fooled. I try all the 'I'm a parent and know better than you' tricks. He just sits there like a magician watching someone do card tricks. "That's all you got?"
I'm not sure brands understand that we need stability more than innovation in most cases. I'd rather have something that works than something that looks like it came from The Fifth Element.
Does anyone else have this packaging problem? How many products do we buy based on the labels or packaging?
Take this one for example that Andy found. I know for a fact that lots of people are drinking this one.
–
Instructional Diagrams
We haz them and the word "instructional" has a very wide definition.
The HowToBeADad Pinterest page
Strong enough for a man, but Ryan-Gosling-balanced for women.