Sometimes, an author/creative-type comes along and shows you that you suck. At everything. Ever. Jeffrey Brown is that man to me right now.
Jeff (you know, since we're friends now) made a little book titled "Darth Vader and Son" which follows Vader, as if he were the engaged father we all wanted him to be, in illustrated situations that father and son might've encountered.
Here are a few panels to whet your appetite…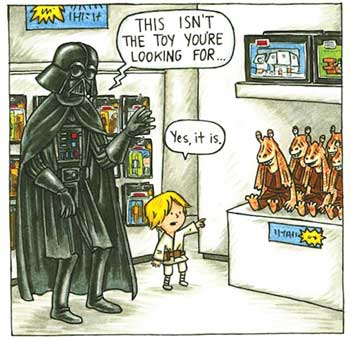 In any event, you should buy the book and really confuse your children with it:
–
Our Facebook community…
The force is strong with this one… page… I suck.
Watch us Stumble!
Okay, that was a bad joke about having a StumbleUpon account. We find cool stuff on there for you too!