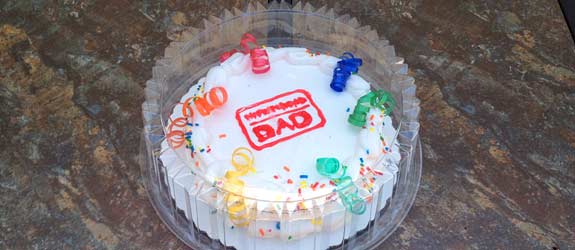 Ed. Note: This cake didn't last long. It exploded all over us, like our April Fool's joke did.
April Fools. That's what we are.
It's our website's birthday/anniversary today. We agreed a year ago when we launched that we would do an April Fool's joke, but the joke's on us.
We hope the video below explains our "The End?" post, where Avara (Charlie's wife) explains that we're breaking up HowToBeADad.com. Perhaps this exploding birthday cake will help soften the impact.

Subscribe to our YouTube channel: CLICK HERE
We were blown away and horrified by the response and we're so sorry if anyone was bummed out by all our shenanigans. Your comments have only strengthened our resolve to produce more content, create a stronger community and get less sleep.
We sort of got to see what it would be like without HTBAD, like George Bailey from It's a Wonderful Life. So we'll be posting a video response to all of your amazing comments soon.
Breast wishes,
Charlie & Andy
Makers of Trouble & Cute Children
PS: Please let us know what you want to see in these next 12 months. Post a comment & tell us!
–
Our Facebook Page
Because it's not enough just to be mad at us on here. You should use social media!
Follow our Pinterest!
Let's Pin Party people.