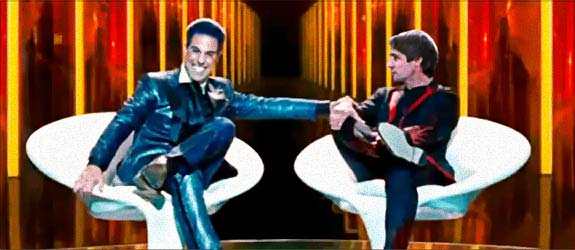 Please don't touch me, Caesar Flickerman. Your hair scares the sh*t out of me.
Let's be honest, I would be the perfect Tribute (AKA contestant) in a real-life Hunger Games.
I know. This is "How To Be A Dad" and not "How To Be a Teenage Homicidal Maniac", but I have to tell you: I HAVE WHAT IT TAKES TO WIN SURVIVE. And not just because I don't like people very much. No, it's much more than that.
In fact, I think there are a good number of you parents reading this who might discover you're ready for this competitive, televised survival game based on the abilities you've earned.
Let me prove it.
1. SPEED
Just ask my wife. She'll tell you I finish faster than anyone. Quickness like bunny. Hands down. Or up. My pacing is unmatched. I'm faster than everyone. At everything. If you ask me to take out the trash, I will say "no" with such speed it will appear that I didn't even say anything or acknowledge your existence. Because, I'm just that fast.
2. SKILLS
Let's say the terrain is rough and uneven. Easy. Have you ever had to slink ninja-like through rooms in complete darkness littered with sharp and obnoxiously loud toys? I don't want to brag but I also change a diaper like a pro. With my eyes closed. One-handed. When they're hurling giant fireballs or those weird "Trackerjacker" birds are trying to ejaculate deadly serum into me, I'd just be whistling "That's Elmo's World." Other helpful parenting skills: the ability to tune out sounds. My son can be pretty damn whiny and I can withstand it about 95% of the time. If President Snow tried to brainwash me, I'd be more resilient than the average Joe.
3. SURVIVAL INSTINCTS
I'm not saying I'm a cold-blooded murderer, but one time some other dad-friends (yes, when you become a parent you start categorizing them) debated what they would do if someone assaulted their kids or worse. They all spoke about inflicting pain but I revealed that no one would ever find the body and they'd never see it coming when I ripped out their voice box to avenge whatever theoretically was done to my son. With fatherhood comes great responsibility to kick some ass.
4. SLEEP RESISTANCE
A major component to Panem's Hunger Games is sleep-deprivation. Everyone is so freaked out that someone is going to kill them that they force themselves to stay awake for long periods of time and then fall asleep at the worst possible moment. Katniss, are you listening right now? As a parent, I am immune to sleep. Sleep and I, well, we're not on speaking terms. Sleep was excommunicated long ago. You know what? F*ck you, sleep.
5. PRIORITIES
There are certain things that are more important than mere survival. If I were Katniss, I'd have things better prioritized. I would be concentrating on baking Peeta's bread if you know you what I mean. Kneading his dough. Whatever. Crazy teenage virgin with gallons of hormones racing through her? The least she could do is play with his breadsticks or something. The dude saved her family. Also, walking around with a loaded gun knowing I may never get a chance to bone up on… boning, I'm no good to anyone. Although I am used to that pent up sexual aggression.
So, there you have it. Put me in the Games, coach. I'll run faster, adapt better and go to third base like the wind.
What about you? Do you have any skills or knowledge as a parent that would help you rise to the top of The Hunger Games?
Post Script: The Hunger Games opened this morning at 12AM and had already sold out (in pre-sales) bigger than any non-sequel before it. Insanity.
–
Our Facebook Page
It's sort of a deadly battle to the death too. Okay, not really.
Instructional Diagrams
Because reading books is for people who have the luxury of time.