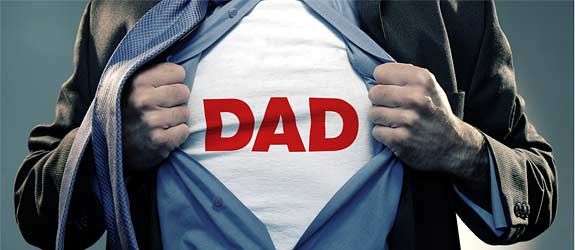 To say parenting isn't easy is to describe cleaning up elephant dung as "slightly aerobic."
The hefty number of tasks we face on our To-Don't list is a bit staggering but combined with the politics we navigate just being in a relationship (or as/more challenging, single parenting), it's incredible that we don't routinely fail more often.
I realized this weekend that I need to confess to something about myself as a parent, something (I'm certain) NO ONE else does in the process of raising children.
Sometimes, I like to swoop in when my son is at his worst, like some noble hero to save the day.
PREFACE OF PREFERENCE
A child's parent preference is so complex not even Bobby Fischer could predict their decision-making strategy. One minute you're cool, the next you're witnessing fingers making slashing movements across their tiny throats, looking you dead in the eye. It's just one of those things about being a parent, I guess. Which is code for, who the f*ck knows why it happens. And I've been on the business end of the "go-away" gun plenty. My son likes to cry bloody murder and scream for his mama. He wails in public places that like he hates me. At first, it really messed with my mind, but eventually I started treating it as a reaction as opposed to an admission.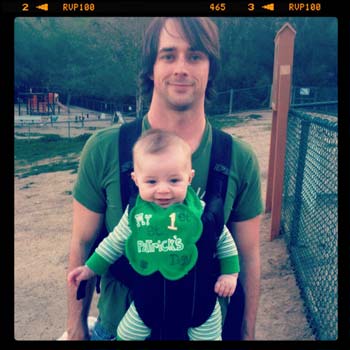 Finn, obviously drunk on Dad's expert baby-wearing. Or maybe it's just St. Patrick's Day.
Here's the part where I could gloss things over about my shortcomings, but I'm not gonna. I'd be dishonest if I didn't mention that there were times when I got slight satisfaction from walking up, as Finn squawked and screeched with his mama, and solving the problem. Now, before we get too far, and you think this is some sort of douchebragging, I want to explain a bit. I don't get enjoyment over one-upping my spouse. You know, besides the arguments when I know I'm right. Besides the arguments when I know I'm wrong and she concedes anyway due to my horrible stubbornness. Besides the… alright, fine. I'm an a-hole, okay?
CASE IN POINT
A few nights ago, Finn was doing his normal "I'm-Tired" terrorism routine which usually consists of flopping on the floor crying, screaming like a rage sausage. Maybe he'll be tall enough to use these talents out on a future NBA court? My wife was attempting to corral him into the bathroom to do his nightly bath. She had the thing decked out. Bubbles. Toys. A newly-mounted LED flat-screen playing Lion King above the tub. Well, maybe not that last one, but she may as well have… Regardless, the guy was fully nuclear. You have to admire him for it, which is easy to say when it's not happening to you.
I finished a phone call and swooped upstairs hearing the distress, much like Batman, and looked around. "What's happening, Finn?" I pretended I had no idea. He looked like he had just been given bad news about his cancer results while he watched his entire family burn in a barn fire and his toys were stolen. Simultaneously.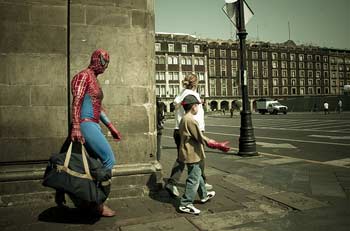 "I know Mom is walking you to school, but Spiderdad will be right behind you, son." Image by Eneas
Sitting on the sink being accosted by his mama, he looked me deep in the eyes and pleaded, "Dada." She tried to brush his teeth. He wouldn't budge. I sauntered over to the counter by my towel-wrapped son. He clasped his arms around me. I told him it would be okay and we finished up.
My wife does an incredible job as a parent. She is a highly compassionate person, if to a fault. And Finn is lucky to have her. Really. So, it makes no sense when I jump into the mix and make her feel like an idiot. It's part of the insipid game-play that is co-parenting. When things lock up working with a child, having an exterior influence can be helpful. A change of parenting pace. Just make sure you don't whisper to them, "Mama is so mean, isn't she? She doesn't love you like I do."
That would be wrong.
–
The Facebook Page
Putting a "THE" in front of it makes it sound more officialer.
Our Instructional Diagrams…
…Are the most awesome images most people have never seen.