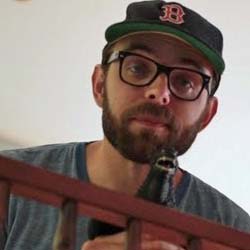 Try as parents might to get their kids on board for all kinds of stuff, our kids still rebel.
Try these brussel sprouts, you'll love them! Let's go to the dentist! It's fun! C'mon, change your own diaper! Hygiene is cool!
But it's not just the lame stuff we're supposed to get them to do. It's also the stuff that we WANT them to do or like. Movies, music, toys, food. You say, "But I LOVED it when I was growing up!"
Anyway, here's a look at this parental phenomenon and a desperate dad's attempt to get an early start at getting around the generational gap…

Subscribe to our YouTube channel: CLICK HERE
So, will we keep trying? You bet. Will we fail? Probably. But will ever stop being nostalgic about our own childhood and thrusting upon our own children? NOPE.
Not sure if you'll see more videos with Andy in them. He's kinda hogging the limelight. I can't have that. Whatevs.
–
Our Facebook Page
Just one more thing, as parents, we force on you.
Follow our Pinterest!
Because like the spice up the photos of cake and shirtless guys with immature humor.