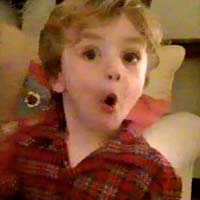 Subscribe to our YouTube channel: CLICK HERE
I wasn't familiar with most of the films up for Academy Awards this year, so when we watched it as a family, the most entertaining thing about it was watching my 2.5yo, Lucas, spaz out to it all. This post may seem like it comes to you a little late, but it's actually right on time when you look at it using the "better late than never" measure of time that most parent's use.
"He DO it! HE DO IT!" Ahhhh, so amazing. He did in fact do it. He did! Whoever he was. I don't know, I was watching my son the whole time. Aaaaaaaand the Academy Award for cutest kid ever goes to… my lad. (Don't worry, yours swept at the Golden Globes.)
–
And the Facebook goes to…
It's not a golden bald statuette, but it's something.
Instructional Diagrams
A silent picture won Best Picture this year. These pictures are silent, too. Just sayin'!