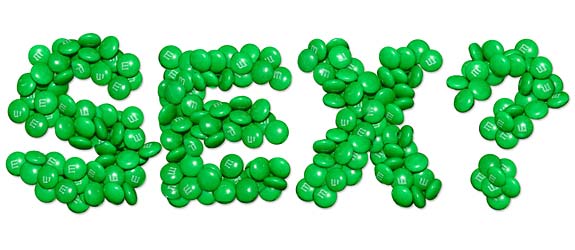 ---

WARNING: Some of this is naughty and crude — but along with being romantic and amazing, sex can be naughty and crude. If you doubt that, have your lover hold a mirror up so you can see your own face the next time you have an orgasm. So, please don't get all faint-of-heart or ranty when reading this, you can exit at any time you start feeling woozy or self-righteous.
---
Every couple will run into a situation when it's been a while since the time to get it on was… gotten on. Or when one of you is just feeling like the getting really needs to get gotten on ASAP. This is especially true for couples with kids. When they've lost that lovin' feelin' or at least their kid's misplaced it for a good long while, along with the remote and their second set of car keys.
Here's the problem. Who doesn't feel boring and businesslike saying, "let's have sex tonight," right? It sounds too much like scheduling an overdue oil change for the car. (Unintentional metaphor alert!) So, I've created a series of 5 posts presenting a total of 50 different ideas to nudge your lover, to let them know you're in the mood for loving each other's brains out, all night long.
Here are the first 10:



#1 Passionista

Show your arousal at the most boring article of clothing she's wearing. Breathe deeply at the sight of her rainboots, lick your lips like a hungry wolf when she a ties her hair up in a tattered scrunchy. The plainer the item the more outstanding your desperate desire will be to her.





#2 Training

If she sees you exercising, eating oysters and glugging vitamin E like a mad man, she'll get the hint about what Olympic event you're trying to score gold in.





#3 Use a Greek God

Wine. Dionysus is the God of not just wine, but also ritual madness and ecstasy. Which sounds a lot like sex to me. Small wonder, eh? Get a great bottle (or case) of wine and see if something pagan starts to happen.





#4 Sexting

Hey, it's a digital world now. So…

Wife: Can you bring the laundry up when you get home?
Hubby: Your scent makes me wild.
Wife: The laundry fragrance?
Hubby: No, YOUR scent is intoxicating! I want to ravage you.
Wife: Uh, have you been drinking heavily?




#5 Precious Deals

This one's expensive, but sometimes you need a strong offer for the lady. Look here. On average, sexual intercourse only lasts about ten to fifteen minutes. But, we all know how long diamonds last, right? Such a deal!





#6 Barry White

iPod, CD player, cassette tape, 8-track, it doesn't matter. This will send the message that you're not "gettin' enough of her love, babe"!





#7 Clothing Bandit

This one is a lot of work so make sure to pace yourself so you've got enough gas left in the tank to take her to Funky Town. When she's in the shower, take all of her clothes out of the closets and drawers and hide them. When she comes out and starts toward the dresser, start whistling innocently and let it play out however it will.





#8 Sexual Chocolate

M&Ms. They say the green ones make you horny. It's just an urban legend, but give your loveykins a jar of just the green ones or cover the bed in them. If that doesn't register for her, maybe what they say about chocolate being an aphrodisiac is true.





#9 Let the Games Begin

Rather that watching the regular show you two probably watch, suggest something more intereactive. Like Spin the Bottle, Strip Poker, Nasty Twister, The Dirty Hokey Pokey, or Nude Monopoly. Remember, no one ever finishes Monopoly, sooooo… you're very likely to pass Go and get a chance to build a hotel in her Park Place. (Wink wink!)





#10 Office Supplies

If you take something lame (like a PostIt note message about having sex) and multiply it by 1,000, it is no longer lame.

Since I'm a man, these are written from a man's perspective, but they work for both sexes, mostly. And since I'm dumb, they're written from that perspective as well.
(The author of this post is not a qualified or accredited sexologist or provider of romantic advice. Please do not listen to him or blame him for any bad consequences that come from following his advice.)
–
Instructional Diagrams
These would all be better if they were in a pop-up book. But they're still good.