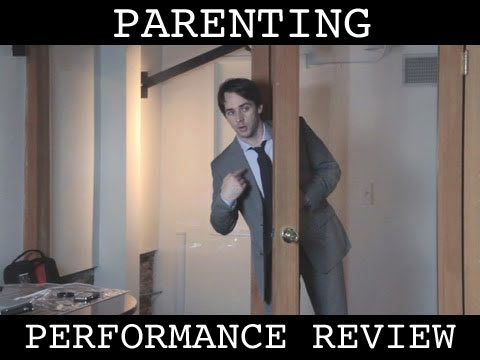 I don't know many parents that would be pleased to hear their kid(s) would like to have a meeting and go over their job performance…
…And that's precisely why we made this video.

Subscribe to our YouTube channel: CLICK HERE
We usually have enough guilt, as parents, to travel to the sun and back on our rocket boosters of regret. We can barely hear our grown kids say "I hate you" without our soul crumpling into a speck. Both Andy and I know we aren't perfect parents with our respective families. It's obvious, to me at least, that I do an okay job but I would never kid myself about being the ultimate dad. If there were contests or spelling bees to crown someone as a great dad, I'd lose out to some fanny pack-wearing mommy-dad. Hands down.
I'd like to be better. Maybe we should actually institute these employee reviews because let's face it: we're employees here and our employers are tough customers.
To watch more of our videos, GO HERE
–
Our Facebook Page
It's a good place to tell us we're dumb or smart. You decide.
Instructional Diagrams
We should probably read these over again, since we're about to get fired as parents.