You may feel foolish at first, but you'll probably smile or burst out laughing. You'll see. YOU'RE FIST BUMPING US (or each other) THROUGH THE INTERNET! And we think that's almost as rad as teleportation. Except not as useful, probably.
The Fist Bump
Click to enlarge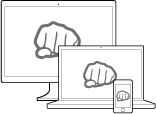 It's easy. The FBFB can be done on any screen, so you really don't have any excuse not do it! (But be gentle!)
Whatever your thoughts are about this interactive gesture, it's undeniable that it's here to stay. Until it gets old and dated and is then replaced with something else, of course. But for now…
A fist bump says, "Hey! _____ is amazing, right? Yes. We both agree that _____ is indeed amazing." All in one convenient, economical motion. Winking can say the same thing, maybe. But winking can also wind you up in other meanings and messes. A fist bump is clear, easy and is also more hygienic and energy-saving than a high-five.
Why???
A fist bump can also simply say, "Hey, rad friend!" That's where this interactive Instructional Diagram comes into play. It's our way of saying, "You're rad. Thanks!" It's also our way of giving you the chance to use it and say the same thing to someone you think is amazing. People need to hear they're amazing more. Plus fist bumping through the Internet is super crazy fun! C'mon, try it! No one has to know!
SEND US YOUR PHOTO!
Send us a photo of you fist bumping our FBFB and we'll feature our favorites on our Facebook Page! Email: fbfb@howtobeadad.com To see the photos we've posted CLICK HERE!
=@@=
Charlie & Andy
–
Follow Us on Facebook
If you like the Facebook Fist Bump you should Like our Page. It likes you, too.
More Instructional Diagrams
One is never enough.