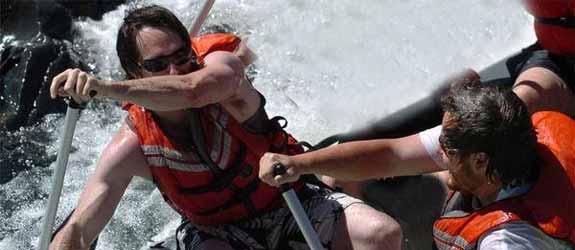 I've often told my friends that fatherhood changes you in all the predictable ways. Fighting to keep my individuality and identity, I believe I've won more than I've lost, and honestly, I've lost parts of myself that were bullshitty anyway.
But there were some interesting results I didn't foresee. Namely, I didn't realize it would change my desire to do insane stuff.
So, here are five things I'll (probably) never do, now that I'm a Dad…



1. Skydiving

I am a child of extreme sports before they were given such a ridiculous name. I was an avid skateboarder and enjoyed many "alternative" (now as popular as primetime) sports. I now enjoy challenging my fears, as long as they don't involve beheading or fatality.

Jumping out of an airplane probably won't be making my shortlist of foolish, adrenaline-pumping activities. My life shouldn't be saved by just a backpack and an oversized duvet cover.

Plus, my wife has assured me that if I were to try and didn't die attempting to skydive, she'd kill me when I reached the ground.





2. Sleep

Bwahahahahahahahahaha. Sorry. I mean. BWAHAHAHAHAHAHAHAHAHA HAHAHAHAHAHAHHAHAHAHA.





3. Road Rage Fist Fights

I live in LA, so I've lost count the number of times I've WANTED to get out of my car to "physically redirect" someone's face. Drivers here are too fast, too slow, too stupid and too stuck to their phones to realize that they almost killed me, my wife and my son in the car. I worry for the fate of mankind. Worse yet is the subsequent attitude after they've cut me off or nearly run someone over. The hubris and ego of people driving here has reached a level not-before seen since Cannonball Run.

So, it's time to put away the brass knuckles and Irish accent, and become Mother Theresa so I gently comment on the idiosyncrasies of LA drivers in front of my son. "My gosh, that person is really creative with his turn signal. I wonder if it's broken. Perhaps I should let him know, so he doesn't involve himself in a collision."





4. Hunt For Unicorns

I have neither the time nor the energy to spend chasing after a creature that arguably can't get enough of me. Me and unicorns go way back. Those bastards are always trying to get me to ride them. They keep mentioning something about the movie Legend, and my name. Something about Candy Mountain. No idea what any of that means.

As you can probably tell, I am sort of the Unicorn Whisperer.





5. Fail

Big old bag of nope. Nope sandwiches. Nope.

–
We write over here too!
More pictures, less writing. You like?
That's very PINTERESTING…
Even though a horrible pun was used, oblige us and look at our Male-Friendly Pinterest page.