We all know there are a lot of different parenting styles. Probably as many styles as there are parents, right?
But I never get tired of discovering things that I would NEVER have thought to do. Seriously, who comes up with some of this stuff?
Well, today I present to you… this.
Sure, make a bong rip sound and your baby will go right to sleep. It's that easy.
I also enjoy the magical words pouring out of the mouth of Mom and into the ear of the waiting baby. Mind control never looked so simple. Yeah, it's basically like humming or whistling a baby to sleep, but you look like a bird and you sound a babbling brook. A babbling brook wasting their college career taking hits off a bong.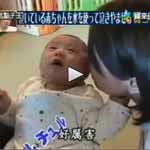 Will you give this a try? Or am I just nuts and haven't used this well-known, revolutionary technique yet?
–
Weirdbook
If you think this is crazy, try our Facebook page. We post weird all the time.
Potty Failing!
Sometimes we fail harder than anything we could post.