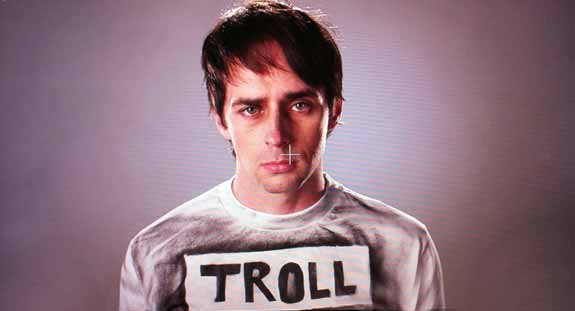 If you were to ask, I would be the first to tell you I am not a perfect father, perhaps not even a great one. I know some of you have said I seem like a "rad dad" but I often think I am more of a "dud" than a "dad." So, before I utter anything even remotely disagreeable, or judgmental, please keep that in mind.
But I'll be honest, judgment isn't all bad. Using your better judgment is smart. Judging your reactions is a good thing. Judging your snap judgments is decisively important.
So, let me wade into the gray area between Internet trolling and criticism. That swampy bit of land where people disagree and fault you for writing about anything.
Last week, our Facebook page got a little heated over the topic of kids crying in Santa photos. If you're not following us on there, or Zuckerberg has his hands over your Facebook eyes, here's the gist:
First, I reposted an article, Revenge of the Santa Photo, wherein I unveiled last year's Santa photo. Some were appalled. It garnered 60 comments and there were a fair number of people opposed to what I wrote.
Several people found the act of posting my son's crying Santa photos demeaning and possibly traumatic for him.
Granted, we poke fun at a large swath of subjects. But I am VERY sensitive when it comes to parenting issues, ESPECIALLY about my family.
Those who read my dribbling posts know it.
And now I'm noticing all the spelling and grammatical errors. Nice, Charlie. More proof that you're an idiot. At any rate, this is the most frustrating part of writing and interacting with people on the Interwebz, besides, you know, not being a skilled writer.
I didn't exactly respond like a champ. I wanted people to know that a photo captures a singular moment in time from a subjective point-of-view. They tell stories in milliseconds, and their backstory can be left open to interpretation.
It seems we have all become very critical of each other, and with reality TV and editorialized news content, if a person doesn't have a stark opinion, one way or the other, it's not newsworthy.
People will disagree, in fact I welcome people having a different view, but this conversation crossed into denunciation, though I'm not talking about bullying. It gives me pause to reflect on how we treat other parents. We disagree before we have the full story and it allows us to disparage. We jump on people for making different parenting decisions, and lack the cordialness of discussion to find out what happened.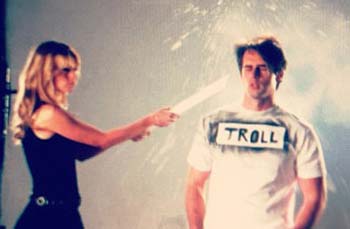 Sure, it's part of the internet — that whole trolling and fault-finding thing. But why don't we excise that part? At least a little bit.
Not all optional holiday activities, documented or undocumented, are traumatic experiences for children. I don't enjoy taking photos of my son when he's upset. I'm usually too busy assessing why he's distressed or showing my solidarity by holding onto him while he wails away.
Establishing traditions isn't necessarily bad. Some kids cry if you ask them to put on their shoes. Some kids don't want to go for a walk when they need it most. Santa isn't a requirement but an attempt at establishing a ritual of gratefulness and compassion. Giving. You know, all the stuff I hate doing.
And that leads me to this year's Santa photo. Tada.
People develop and change. Finn, certainly, is doing just that through experiences both affirming and unpleasant. But we're all growing. I'm growing. You're growing.
Let's all grow together.
That way we can judge each other's growth.
–
Judgebook
Let's all disagree together!
Bad Santa
It's not just a movie.
Instructional Diagrams
If you don't like us after these, I'm not sure we can be friends.