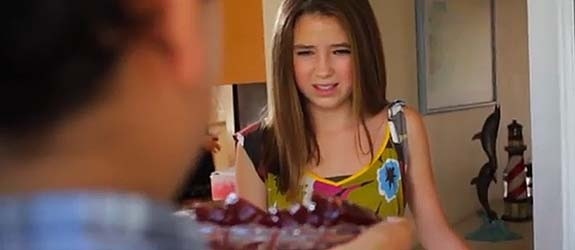 Remember when Rebecca Black came out with "Friday" and it was largely considered the worst song to appear on YouTube?
Well, I guess we didn't learn the first time.
The same brilliant minds have created a new video and this one is called, "It's Thanksgiving."
Shocker: IT'S ABOUT THANKSGIVING.
And watch the video all the way through if you want to puke and make room for Thanksgiving tomorrow.
This song has latched on to my mind like a facehugger from Alien. And not in a good way. Using another hapless girl whose family moved them out to Los Angeles seeking fame and fortune, this music producer contrived this saccharine crud to fabricate her fifteen minutes of fame. It makes me want to rip out my ear drums and beat them in front of his offices in protest.
Did I mention the song was released on November 7th and already had 154,000 DISLIKES?
I'm now OBSESSED trying to decode the true meaning behind this tune. The lyrics are so ambiguous:

It's Thanksgiving
It's Thanksgiving.
It's Thanksgiving.
School is out.
I can shout.
Thank you.
Thank you.
Thank you.
It reads like Carl Sagan, doesn't it? She's literally unlocking the key to the universe with her simple bubble gum verses and hypnotic choruses. When she says "we're gonna have a good time…" we all know she really means that we need to focus on space exploration to unite our countries as one planetary government, right?
And did I also mention the producer, Patrice Wilson, has f*cking gum in his mouth while he's singing? No, I didn't say a "gun" silly, I said GUM.
Have a great PRE-THANKSGIVING holiday workday everyone. Those of you who are working today, listen to this song a bafillion times and maybe it'll render you brain-dead enough to cope.
Snuggles & Hand Grenades,
Charlie
–
Our Facebook Page
It's happy happy funtime.
Follow our Pinterest!
Pinning isn't just for professional wrestlers.