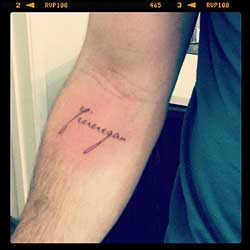 I got Finnegan's name in the handwriting of my favorite author, Mark Twain. Click the photo to see it larger.
"Dada was dat?"
-Finnegan
"That's your name, Finn."
-Me
"Why?"
-Finnegan
"Because I love you."
-Me

This is one of those interesting topics. I didn't get a tattoo until my son was born. I always wanted one, but knew it had to have meaning that would never change. Did you get tattoos for your kids? How have you/are you handling talking to them about it?


–
Previous My Kid Just Said
Poopfingers. Says it all.
My Kid Just Said Facebook Page
This is where YOU can post YOUR kid's quotes. Go for it!