Fire engine sirens, jackhammers, alarms, elevator musak, oh my! It doesn't matter what it is. Loud or awful sounds can freak a kid out. And every kid has their various ways of responding and even defending against these things.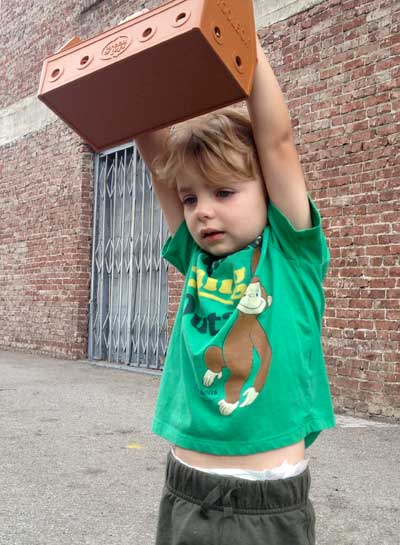 Here's Lucas (3yo) holding up his toy tool box, demonstrating the Arm Muff technique as a Harley belches thunder on its way down the street.
It doesn't even have to be a loud noise, either. Sometimes it's the oddest noises that give them the heebie jeebies, like the tinkling of keys or the sound of a fly buzzing. You name it. If it makes any sounds whatsoever, there's some kid out there that's ready to fill up a diaper or pair of undies fast at the sound of it.
For these, sometimes there are pretty obvious logical connections. "The little one was just stung by a bee, so a fly's buzzing sound scares him." And sometimes it makes as much sense as the way kids draw grass. Which is not much.
From their perspective, they're little itty-bitty people living in a world of giants with a bunch of loud and hot and sharp things. Stressful stuff. If you weren't a giant, you'd be on a hair trigger, too.
–
Instructional Diagrams
Dig into more of these useless original infographics. Here's a shovel.
Follow Us on Facebook
Liking our Facebook Page is the BEST way to stay connected to our madness.