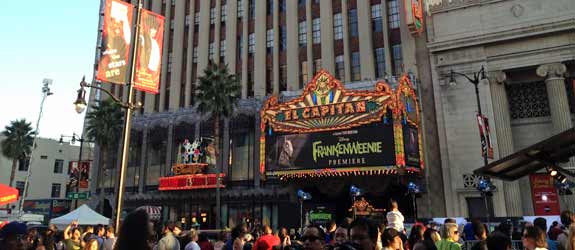 I wanted to tell you guys my stories from the premiere of Frankenweenie. If you want to read my review of the actual film: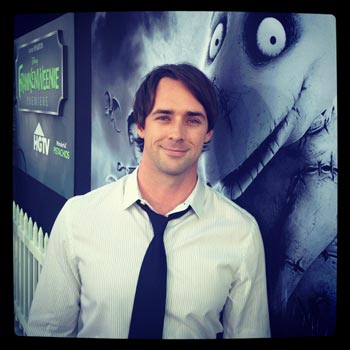 Almost look like I belong on the other side of the guardrail, right?
One of the less logical but more obvious perks of living here in Los Angeles and writing this blog, is getting invited to swank premieres for films.
These events, for those who've never been blessed with the ridiculous and oft-surreal experience of attending, are a hybrid carnival and middle school dance. Celebrities mill around behind walls of bodyguards and publicity staff. They chat with each other and have you thrown out for looking in them in the eyes.
The Frankenweenie premiere was just like that.
HAHAHAHA. Just kidding, reverse it! It was fantastic.
But let me start at the beginning…
Walking the "white carpet" was strange, as per usual, since I wasn't walking it as talent or entourage of someone much more talented that I am. As a newly-minted faux-journalist, I looked at it all from different eyes.
I stared at the celebrities, dressed in only black and white tones, dealing with the screaming photographers desperately seeking their attention. When Winona Ryder "stole" the show on the carpet, she looked downright petrified. It's not easy to have that amount of attention and random flashing. It's kind of like a flock of toddlers with flashlights.
And I photobombed all of them. I stood there in some of their photos checking my phone. Others, I had a sh*t-eating grin. Still more, I bent over to tie my already-tied shoes. This was as mature as I would be for the rest of the night.
You see, I love Tim Burton. I'm a fan. Pee-Wee Herman's Big Adventure. Edward Scissorhands. Batman. Nightmare before Christmas. Love 'em all. So, being 5 feet from him made the 10-year-old in me explode into a bafazillion awkward, nerdy pieces of adrenaline and dark humor.
A security guard decided to unclog the drain of walking guests rubbernecking the stars being interviewed and having their souls stolen by light and lenses. I made it to the edge of the procession and decided to plant myself for a bit.
We hung around for a bit and then they ducked into the theater, and at that moment, I was as glad as I've ever been about attending a Hollywood event. Elvira made her way from one giant set of eyes affixed on her to my giant eyes. I grew up with her on my television. She's legendary, an icon. And doesn't age apparently, either.
We watched the movie, in 3D I might add, and as we exited to attend the after-party, I was practically stepping on Martin Landau's shoe heels. But this was to be the metaphor for the remainder of the night: I was practically tripping over celebrities who were both accessible and really gracious.
During their interviews, the young men who voice animated characters in Frankenweenie mentioned what a normal, pleasant guy Tim Burton was to work with. This didn't surprise me. I actually find perfect people to be more maladjusted, by and large.
The night was easy-going and fun. I got to meet and chat with some really talented people. It was the most relaxing premiere after-party I have crashed. No one put on airs. Tim Burton needed a break at one point, since he was non-stop meeting people, shaking hands and signing stuff, as did a few other notable names, but I thought the party was a VICTORY. But most for TWO REASONS:
REASON ONE:
Rufus Wainwright AND his new husband both checked me out. Still got it, ladies and gentlemen. Still got it.
REASON TWO:
DUDES, THIS. Life Achievement: UNLOCKED.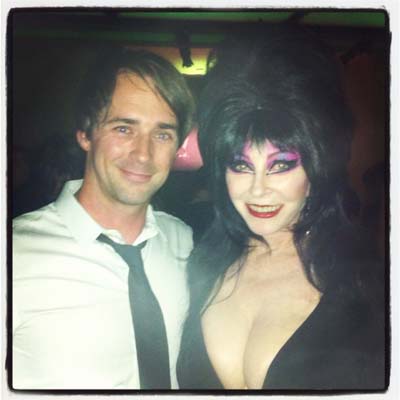 The names "Elvira" and "Avara" are so similar. You can see how I got confused.
Read my review of Frankenweenie:
Disclosure: This post was written as press coverage of Disney/Pixar's Frankenweenie. We aren't press, nor can we even spell. Disney provided accommodations and covered associated expenses but all the lame opinions expressed here are my own. Unless I am zombie. Then they are a zombie's. I did not get PAID for this even though I am broke.
–
Our Facebook Page
It's happy happy funtime.
Follow our Pinterest!
Pinning isn't just for professional wrestlers.