I'm not a huge fan of dads being lionized or transformed into mythical creatures who can do no wrong. Similarly, I despise dads being called dumb, especially before they're even allowed to make fools of themselves. It bums me out.
But now, I think, I've found the perfect uniform for dads… and moms.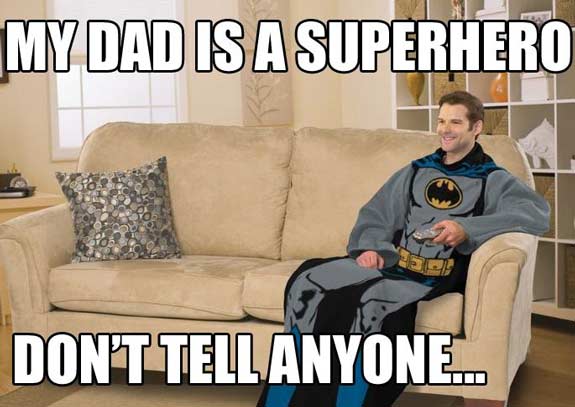 Forget superhero aprons, or ninja pajamas. A superhero (or superheroine) snuggie is where it's AT. When your kids ask you, "Hey Dad, I need five bucks." You can respond, "Not now, son. Superman is watching Sportscenter."
But why stop at Superman? Batman, Wonder Woman, Spiderman.. the list goes on.
Having the superhero moniker can get you out of trouble and deliver you into snuggly warmth. Sure, it's like 115° all over the world right now, but just think of all the cuddly goodness that a themed blanket could bring during wintertime.
I know I will be "buying" one of these very soon. When the temperature drops, and the cloud of bullshizz covers the sky of November elections. It'll get real cold, real quick. Especially for us parents.
To buy this multifunction outfit/uniform/blanket:
–
Who the h-e-double hockey sticks is running this fart parade?
Learn more by clicking the link. No spam. Just delicious meat popsicles.
Don't click here.
trust me. us. you. whatever.