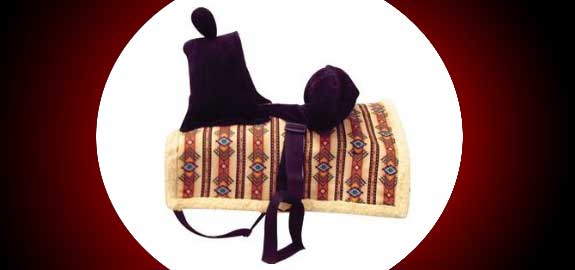 Sure, we'd thought about placing our kids on our hip but history shows us that playing "horsey" predates our sidesaddle ways.
We've been seeing the resurgence of a device for some time around the Internetz so we wanted to review it a bit more. Introducing… the Daddy Saddle, or "Daddle" for short.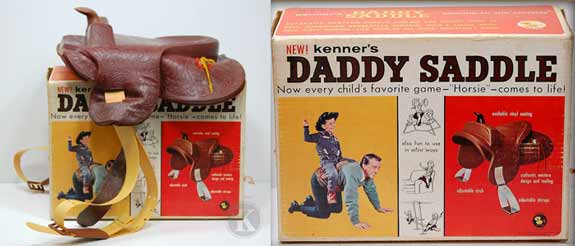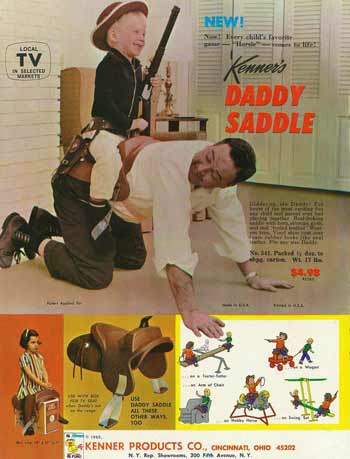 Does that kid have A GUN? HE'S GOT A GUN.
The Daddy Saddle is the epitome of First World contrivances. For years, kids said "giddyup" and Dads did so. They got on all-fours and perched their kids on their backs, unsure that their progeny could hold on tight enough. They grabbed a shirt, a collar or back hair, if it was available.
The photo to the right is an ad by the makers of the Daddy Saddle, Kenner, from 1965. Notice the pride in the boy's eyes. He finally conquered Dear Ole Dad.
You get all of the benefits of equine companionship sans the dung, constant eating, and whinnying. Well, maybe not the dung.
Apparently, the Daddle has adapted over time. What started out as a vinyl contraption with straps has now become a full-fledged, soft-stuffed version of the real thing.
They also recommend knee pads. Go figure.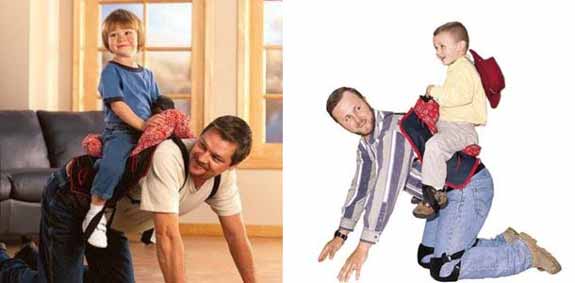 While we love horseplay and imagination, do we need a saddle?

Loading ...
–
Want some more weird stuff to buy?
Because it's the AMERKUN DREAM.
Follow us on StumbleUpon
Because… we love you.