Do you guys remember this post?
Yeah, it's a sweet little Finn-monkey photo, right? Well, how about that shirt?
I did a little digging and I've found the gentleman behind this as well as many other INSANELY RAD t-shirts and onesies.
They range from newborn onesies all the way up to 12 year-old youth shirts and the shirts he uses are from American Apparel, a local, sweatshop-free clothing manufacturer here in Los Angeles.
---
br>
HowToBeADad's
3rd Interview-gasm!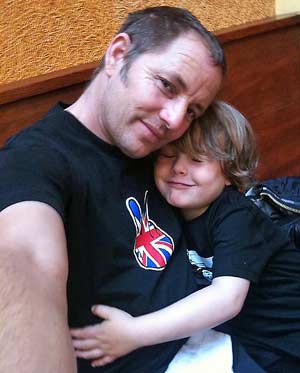 Meet Phil Rowntree and his son, Fionn, of YoungPunks.com.
CHARLIE: What made you decide to be the Wolfgang von Mozart of rad t-shirts?
PHIL: My son Fionn was singing along to The Queen of the Night and I realized he needed some clothes.
CHARLIE: Why does the color yellow smell like lemons?
PHIL: It doesn't, but it probably should – your question makes me happy, as it makes me think of lemonade, which is yellow and does smell of lemons – so perhaps I'm wrong – either way, I love lemonade.
CHARLIE: Have you ever told the parent of a kid you saw out-and-about that they were wearing your shirt only to have them throw wads of cash at you?
PHIL: Yes I have seen kids wearing my shirts and yes I have pointed out that I made their kid's shirt. Unfortunately none of them have thrown any money at me and they usually look at me like I'm some sort of weirdo – I find that letting my son give them a bunch of Young Punks stickers usually stops them calling the authorities.
CHARLIE: What is your favorite word in Swahili?
PHIL: Bollocks! is my favorite word in every language.
CHARLIE: Does my breath smell?
PHIL: Only in the mornings 😉
Go support this rad single dad and buy some shirts from his store: CLICK HERE!
–
Spread the word about these radtacular t-shirts on Facebook
Stop the spread of fuzzy bears and baseballs on kids' shirts.
Share this thang on StumbleUpon
This man's awesome designs deserve it, bro…