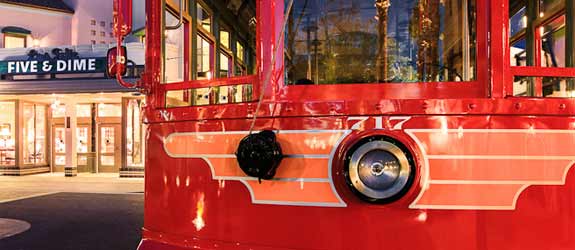 Last week was a pretty good punch to the kidneys. Everywhere I turned there was some form of bad news, I was sick as a dog and I couldn't get my head right… Jobs ending, the IRS sending me some lovely correspondence, bad news on future jobs, the list goes on. Heads were down. Eyes were closed.
But all of that was nothing compared to the torture and abuse I've been receiving from my wife and son.
And I think Disneyland is to blame.
The Adventure
Disneyland Parks decided to invite me to stay at the Disneyland Hotel, see their new Carsland Attraction and visited a revamped 1920's Buena Vista Street in California Adventure Park. Their first mistake.
Then, I snuck in my wife and Finn, and Disney let me. Their second mistake. But getting a little taste of VIP treatment while I toured the new Carsland and California Adventure Park, that was their worst mistake of all.
My wife and son now badger me about going back. Every day. All the time. Here are a few reasons why…
The New Disneyland Hotel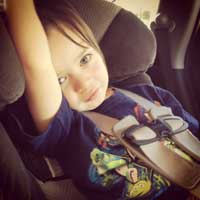 Finn had just woken up when my wife pulled in on a Tuesday afternoon to the Disneyland Hotel. It's a hotel I've seen for more than 20 years when I stayed at the cheaper ones as a kid. I had just gotten back from rapid lay of the land in, uh, Cars Land. I grabbed our bags and we headed over to our Fantasyland-themed tower. We got into the room, and Finn was awestruck when he saw the nightlight display above our bed. Do you remember the moment you first saw the iconic Cinderella Castle? Or the first time you rode a ride with full belief in all the characters and their stories?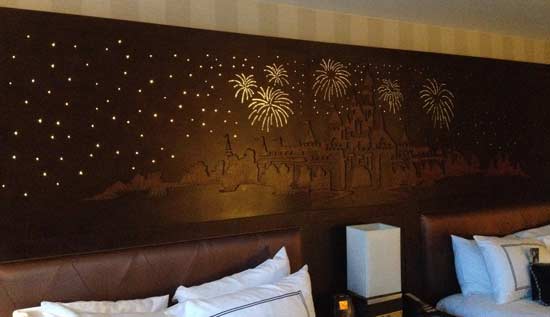 Finn has just started REALLY enjoying his visits to the "Happiest Place on Earth" so when he saw that "nightlight"… something snapped, in the most beautiful way. Yeah, they had redone all the rooms and made them even snazzier.
And then, as conflicted as I've ever seen anyone, he wanted OUT of that room but wanted to stay in and bounce on the beds while watching the nightlight. He was ready to PARTY.
The hotel is in the perfect location because it's not directly inside the parks and just a short walk through Downtown Disney (with tons of shops and restaurants) to get into the park. We packed up and headed out as fast as was todderly possible,
Buena Vista Street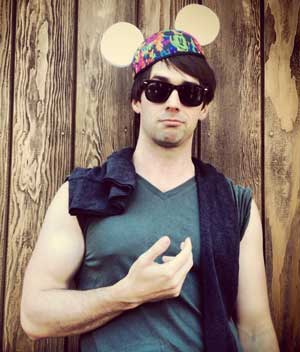 Frenchmen wear their ears just so.
The first stage of Disney's California Adventure Park is now a time machine. They've built "Buena Vista Street" — an homage to Hollywood in the 1920's, and not coincidentally set in the time (1923) when Walt Disney arrived to Hollywood, dreaming of animated adventures and mouse ears. Every detail in the place, according to Senior Show Producer over Walt Disney Imagineering, Lisa Girolami, is a layered experience that help park guests feel immersed or presents 'easter eggs' for the true fans:
"The whole street coming alive is meant to put you right there in the steps of Walt when he first stepped off the train in California and all the optimism and opportunity he felt was there for at the time.
Then there are many more levels of detail, which our Disney fans will recognize and discover."
I'm obsessed with crap like that. They created a treasure hunt to find all the "hidden mickeys" in the park and every subtle message in the design and experience of the park, on your way to your destination, is piece of a puzzle in the Disney mythology. I felt like an explorer/psycho who could normally be found busy working out math equations on mirrors and talking to himself.
There's a vintage red trolley, a car riding around with singing flappers and musicians playing jazz, ambient emanations of dancehalls and art deco architecture. But the crown jewel is a restaurant modeled after the Carthay Circle Theater, the very theater where Walt's first animated feature film, Snow White and the Seven Dwarves, premiered under much scrutiny and public cynicism. He and his brother had mortgaged everything they had to make this all happen. They were banking on a miracle.
So, it's a great start to the new California Adventure Park experience. It feels new and exciting. It's filled with optimism and wonder… even though I pleaded with a fellow dad blogger to ride "Tower of Terror" with me.
It's pretty spectacular, but just wait until you hit the new Carsland park…
Check out the new stuff at California Adventure Park: CLICK HERE
::TO BE CONTINUED…::
–
Our Google Plus Page!
It's like our Google page but with extra PLUS!
Share this thing on StumbleUpon
We stumble too, ya know!
Disclosure: This post was written as press coverage of Disneyland's Carsland/California Adventure park. We aren't press, nor can we even spell. Disney provided accommodations and covered associated expenses but all the lame opinions expressed are my own. Unless I am zombie. Then they are a zombie's… who didn't make any money off this post.