Dreamworks Pictures asked me to come watch their movie, "People Like Us" and interview their director, week before last. I'd seen the previews but wasn't very excited about it.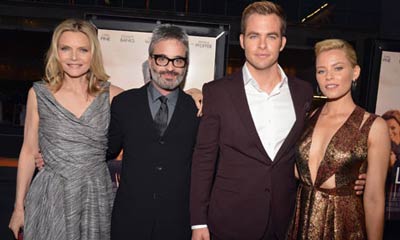 But I was VERY surprised at what I saw. So, I wrote a review of the movie for The Good Men Project today.
And I have something to confess: I cried by the end of the film.
Or maybe someone was cutting onions in the theater? Chalk that up to having your father die before I could ask him tons of questions, the fact that I have had siblings materialize from out of the blue or my dad's association with the music industry, but this one hit home. It's a solid film and not one you'd expect to get made in this modern era of sequels, remakes and comic book movies.
Also, to answer your questions from my earlier post:
-I did not give Mr. Kurtzman my headshot, resumé or demo reel. I also did not tell him that if he didn't hire me on his next movie that I'd take his entire extended family hostage.
-I DID ask him what kind of unicorn blood Michelle Pfeiffer drinks. That is in my review below (after the jump).
-I DID use the restroom in my seat at Dreamworks. They have catheters and poop bowls for the longer movies. As we all know Spielberg isn't afraid to go 3.5 hours or more.
So, go check out my review if you have a chance:
–
We're on Google Plus!
We promise it won't make you cry in the back of some theater by yourself.
Another movie review by Charlie!
It's now more obvious Charlie doesn't know what he's doing, isn it?