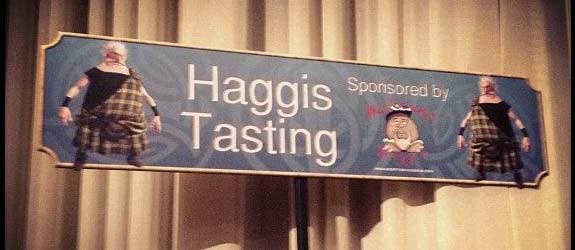 Disney invited me to the premiere of BRAVE last week in advance of it's release this past weekend. They did not ask me to do a bad Scottish accent, however. That was included free-of-charge.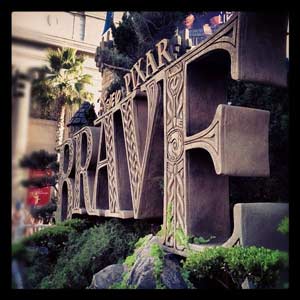 I took this picture on Instagram. See how pro I am?
I boarded my plane car and descended on Hollywood on Sunday before last. When I got to the hotel, I paddled through a small pond of mom bloggers in the hotel lobby of the Garden Hilton Hotel. Of course, they ignored me.
I'd delayed leaving my wife and son just as long as I could since it was Father's Day, a day supposedly devoted to the faithful worship of me as a father. But alas, how the mighty did fall. The day was spent mostly with my son saying "GOAWAYDADA" and otherwise doing last minute packing and prep. No naps. No fanfare for Dad. No ticker-tape parade. It was the imperfect start to my marathon trip for 4 days.
Meanwhile, back at the ranch hotel… We were all strangers, the lot of us bloggers. I quickly ducked into an elevator only to be foiled. More bloggers in the tiny box with buttons. Damn.
"Wait, why aren't you wearing a kilt?"
"Because, I'm Irish not Scottish. It's two sides of the same Celtic coin but my Irish ancestors would junk-punch me for that."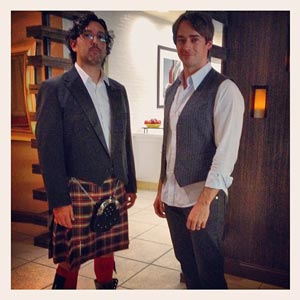 It's hard looking this pretty. David is all punk rock.
No, friends. I did not wear a Kilt, but my friend David did. To the premiere, no less. But that's later.
I dressed up in my Sunday Best and looked like an idiot, as usual. My vest was two sizes too small and my head still hurt from the six hours of dentistry I'd gotten that week. Drooling and spilling out of clothes, I was in my liquid state. Good times, but all of that washed away when I saw the magical kilt.
Earlier that day we'd gotten a chance to interview some of the stars from the movie. Craig Ferguson told David, the other token dad in our group, that he'd better not underestimate the power of the Kilt. David responded by telling him that he'd debated whether or not he should wear undergarments. OLD SCHOOL. I'll let you imagine which he chose.
We walked the GREEN carpet and the fans were chanting, as usual, HOW-TO-BE-A-DAD HOW-TO-BE-A-DAD. It was intimidating, but I pressed on. When we got into the Dolby Theater, I saw free food. I attacked it. What better way for these women to get to know me then for people than to watch me stuff popcorn and candy in my mouth like a starved street dog?
Quick recap of the premiere:
-Almost tripped over an Amazon-tall Allison Janney
-Pretty sure Kevin Nealon grabbed my ass
-We sat in the Disney teen millionaire clients section
-I didn't get all bummed out like usual when I'm at premieres for films that aren't mine, even though we watched it in the theater where the OSCARS ARE HELD. MINOR VICTORY!
-I may have visited the "Scotch Tasting Section" at the after party (which is probably why the item on the list happened)
-I ate HAGGIS after posting the question to you on Facebook. You guys obviously hate me enough to make me do horrible things. Should I pose more questions on FB like that? I cold be your very own video game character!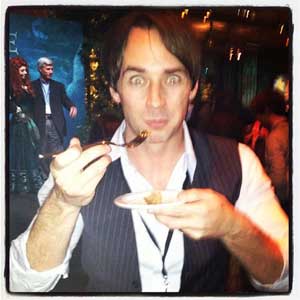 Part Two will be a review of the movie because I thought it was THAT awesome, including the answers to the magical questions I posed in MY POST before… And I never write reviews! BLAM.
Also, I've been listening to a finale song of the film on repeat trying to exorcise that smiley sad feeling. It's by Mumford and Sons, and sung by Birdy. I leave it here for you… Enjoy.
This song. MY HEART.
Like BRAVE on Facebook and follow BRAVE on Twitter to stay on top of all the Brave news!
Disclosure: This post was written as press coverage of Disney/Pixar's BRAVE. We aren't press, nor can we even spell. Disney provided accommodations and covered associated expenses but all the lame opinions expressed are my own. Unless I am zombie. Then they are a zombie's.