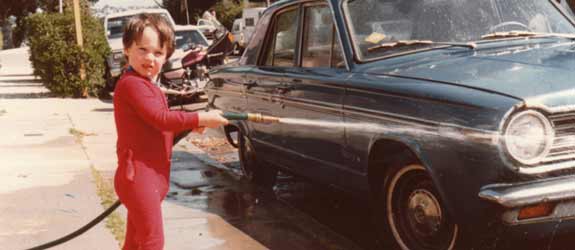 I can't presume to believe that a large enough number of people read this website that I could conceivably reach anyone I'd like. That would be arrogant of me.
But I wonder sometimes if people from my past, people who've closed the door on me or that I've fallen away from, might somehow stumble on this carnival sideshow by accident.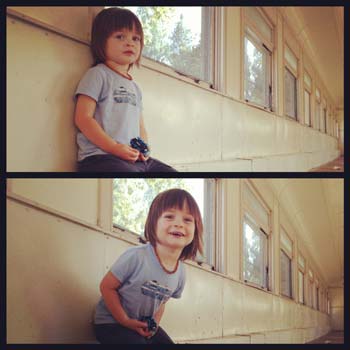 Look at this growing boy. Growing like a freight train sitting… in a freight train.
My son is making, what I would say, are emergent versions of friendships. He's quickly learning the gentle art of making enemies, the politics of pissing people off, the warfare of social dynamics and the advantage of being friends with lots and lots of girls. The apple and the tree, whatever.
I saw my son sitting next to a boy in his class at preschool this week. He's as rambunctious as Finn but has a shadowy streak in him, and the streak could be either abundant intelligence or a dark side. I'm not entirely sure yet. They're similar enough that they get along… But…
And then it hit me. The scenario looked all too familiar.
I had a friend growing up, one of my first real "best friends." But the definition of friend seemed a bit hazy back then. It could've been my naiveté or the fact that it was Kindergarten, but this "friend" was both friendly and antipathetic toward me. He would push me over in the sand as I tied my shoes, and, let's be honest, by "tie" I mean "velcro". We grew up talking about things I could never say in front of anyone else. He acquainted me with fireworks and cap guns. He introduced me to a ton of experiences that were both dangerous and formative. From Kindergarten until Middle School, he dominated conversations, wrestling matches and excursions. We'd play fight and he'd always best me. He was ostensibly a bad influence.
But his dominion began to crumble when we both hit puberty. I grew faster and bigger than he did, and it evened things up. He was both my closest friend and my toughest adversary but because of our fraternity, our familiarity and a mutual intelligence, I stuck it out. He was a brother in every sense of the word but blood. We were, in more ways than I care to admit, like Lancelot and Arthur.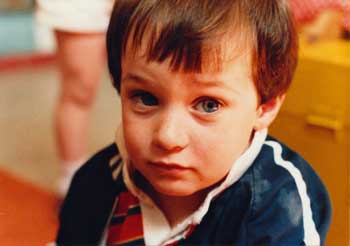 I mean, who would want to be mean to him/me? Old me. Young me. Whatever.
Our friendship came to an end abruptly. He was on the wrong side of a break-up with a girlfriend of mine. Things didn't turn out the way I'd hoped. It was a storm.
Years later, I reached out to him and we decided to meet up. It was a rambling meeting in the bar up the street from his childhood home we'd passed every day as kids. Enough time had passed and we were allowed to drink legally together now. Another first for us. It was obvious to me that we were two people well-worn by our very different paths in life. It was tough to reconcile a normal conversation and there was an overbearing subtext made it erratic. He let me know that my former girlfriend cheated on me with him. I brushed it away, either too hurt or too far away from it to care very much. I still don't know which.
But then things went even further astray.
He asked me why I was really meeting with him. I had mentioned earlier, in passing, that I was in town to check in with my family while my father was undergoing cancer treatment. But he meant something more sinister. He kept pressing me, and all I could say was that my father was sick. That wasn't the right answer. We left it there. How could I disprove something didn't exist?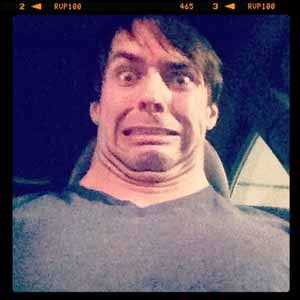 Somehow, this photo ended up in this post.
A couple tense and accusatory conversations by phone in the space of five days after that and we were done, again, but finally.
When my father finally passed away, there were articles in all the papers about his death. Ben Fong-Torres, a kind friend of the family, wrote a nostalgic piece about my dad and his legacy on the radio airwaves in San Francisco. I wanted so badly to cut the articles out and send them to my former friend, like some sort of friendship ransom note.
But I didn't. And he will probably never read this. Hell, I'm barely reading this. There's a giant of part me that wishes I had had the balls to let my pal know. As this website becomes about more than just me and my weirdness, I wonder if people from my past will end up here. What happens if they stumble on a story or an image suddenly realize who it is?
But really, my main question for today is: will my son have to endure the feeling of cold steel sliding in between his vertebrae as someone whispers, "I'm your friend" to him?
–
Friend us on Facebook!
So, we can NOT stab you in the back.
Watch us Stumble…
On StumbleUpon… GET IT? GET IT? … Someone punch me.