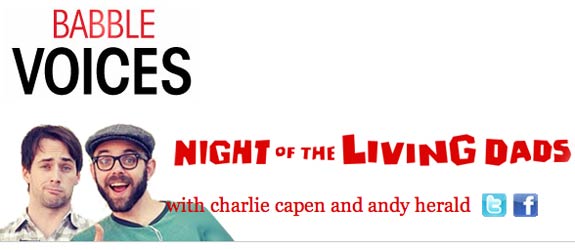 We don't consider ourselves writers, necessarily. I think most professional editors would agree with us. We write most of our posts at 4am with some heinous spelling and grammar issues. Somehow we've duped Babble into letting us write for them in their Babble Voices section. We're calling it "Night of the Living Dads" — an obvious riff on how zombie-like we feel every day from sleep-deprivation.
We've added a little sidebar ad, that will occasionally pop up on the side over here ——>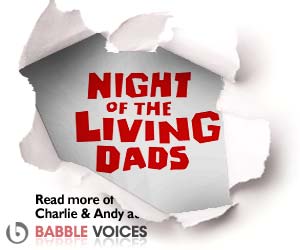 Zombies & Dads. Same difference.
It's a prestigious section and we feel like the "bad kid table" at a black tie dinner, but that won't stop from partying hard. The posts we have planned over there will most likely be similar in style but a bit of more Rock N' Roll. Expect to see writing that is more emotional, more opinionated, a bit more rage-quitty, etc. than here at HowToBeADad.com.
And, because we'd like you to see our stuff over there, we might tease an article every so often too, if that's okay.
Today's post is a follow-up to Charlie's "Ugliness" post about witnessing some UGLY sh*t. Charlie felt very conflicted after reading reader comments (here and on The Huffington Post) and an article about a mom who strangled a boy who bullied her daughter.
READ: "Antisocial Media"
He felt it needed a bit more discussion. We'd love it if you could go over there and weigh in with your thoughts.
Snuggles & Hand Grenades,
Charlie & Andy
–
Join us on Google Plus!
Because it's like a Facebook, only younger and cuter.
Or just stick with Facebook
Our Facebook page is like Google Plus, only more mature and a better lover.