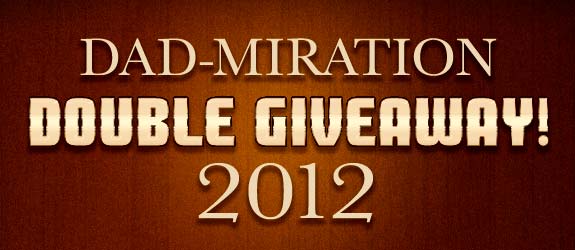 That's right, kids! We're giving you a chance to win two prizes in one shot in honor of Father's Day. Because dads are rad, and two prizes are just better than one.
Anyone can enter: Just login to Facebook or enter your email in the entry field below to begin. After you Like us on Facebook (we're admiration junkies), then there are 5 other ways you can earn more entries in the giveaway! We're pretty much letting you cheat. And if you've already done some of these extra things, you'll be credited for it.
What YOU Could Win!
1. Ultimate Dad Bag
by Ben Minkoff

Rebecca Minkoff is known as a maker of purses, bags and fashion for celebrities and stylish women everywhere. Now behold Ben Minkoff, one of the raddest new mens' accessories lines known to… men.

The age of men being forced to sheepishly carry around a daisy-print baby purses is over, so Ben Minkoff decided to create a canvas and leather tote loaded with style and pockets. This bag isn't available until this Fall which means extra rad points!

Read a recent GQ article about this rad bag.

Retail Value: $325.00
RADNESS LEVEL: EPIC

Click to see it bigger
2. $50 Gilt Kids Gift Card

They have rad stuff. You need rad stuff. Pretty simple, right? Since we've become GILTY Dads, we needed to pass on the awesome. Use your $50 for whatevs you want. Or listen to me, Charlie, and buy one of these items: CLICK HERE

Retail Value: $50.00
RADNESS LEVEL: AWESOME
PS: If you're not a diaper-bag-needing dude or dudette, keep your eyes peeled.