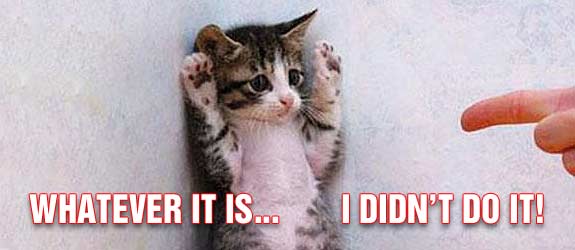 On the journey to teach kids the difference between Right and Wrong, they seem to learn something else you didn't necessarily intend along the way. All on their own, without any flashcards or kidstructional videos. Wrong 101.
They learn the wide and varied rainbow of responses to any accusation or confrontation of Wrongness. Kids learn quickly by default, but they break the sound barrier when it comes to learning about Wrong 101 and how to deal with a parent glaring down a pointed finger at a broken pile of Wrong on the kitchen floor or scribbled onto the cushions of a sofa.
My two older sons, Max and Cody, have this subject down pat at ages 11 and 13. They're both pretty close to a Master's Degree in Fault Avoidance, so I could easily write a really long and detailed essay, filled with nuance and intrigue, but let's just have a look at the early stages of learning. Let's look at it from the perspective of a toddler, my son Lucas' age (three years old). It's a simpler more formative look, and it's also super fun to write dialog the way a toddler talks.

---
Proud Ownership
Parent: What's up? Why do you have flour all over your shirt?
Kid: Come! Come! Wook whu I do!
---
Shameless
Parent: Did you do this!?!
Kid: Yes! Hee hee! I do it!!!
---
Clueless Reassurance
Parent: Not the dryer!!!
Kid: Is'okay!!! We can get a new one!
---
Incriminating Denial
Kid: I did not do dis. NO I did NOT!
Parent: Whu? What do you mea-OH NO! Not the new curtains!!!
---
Apologies
Parent: Ohmygod!
Kid: I sowwy!
---
Practiced Apologies
Parent: Ohmygod, not again!
Kid: I sowwy I sowwy. I not do again.
---
Stale Apologies
Parent: OHMY-
Kid: I sooooo sowwy. I not do it again aaaaaany more.
---
Bad Lying
Parent: What was that? Did something break?
Kid: Ummm… Uhhhh… Not me. I not bweak it wiv my hammer. In da bafwoom.
---
Better Lying
Parent: What was that crash in the living room?
Kid: No. Da neighboh cat jump on da twash cans again.
---
Redirecting Blame
Parent: Come here and look what you did.
Kid: I fink… uh… [sibling/pet/cartoon character] did it!
---
Playing Dumb
Parent: You have to understand this doesn't come off!
Kid: Cwayon? Wha's cwayons?
---
Diversionary Tactics
Parent: Have you seen the flower vase?
Kid: I fink I need a baff! And fo wash my haiw! Wet's go! Wight now!
---
Reversal
Parent: Did you do this?
Kid: No no no. Did YooOOooOU did it!?!
---
Weak Alibis
Parent: Where have you been, little one?
Kid: I pwaying wiv my bwocks in my woom all day. And yesserday. And tomowwoh. Not on you waptop.
---
Brown-nosing
Parent: Agh! You put my phone in the TOILET!?!
Kid: I wuv you [Mommy/Daddy]. You my favowitest [Mommy/Daddy] evew.
---
Fake Innocence
Parent: Look at this mess!
Kid: Ya! Das a MESS! Who do dis? Whu happen?
---
Insanity/Cute Plea
Parent: Where is Great Grandma's ern… what's that on your face?
Kid: I wike wainbows! On my butt!!! Dey make my tummy wiggle when I waff! An da buttew-fwies fwapping!!! Hee hee hee hee!
---
This is just a sampling of some possible toddler responses to owning up (or not) to a hefty chunk of Wrong. It may seem cute, and it is a lot of times, but we all know that there are days when it's as cute as a fish head in a microwave. For a rare few, it isn't even like that, it literally is an exploded fish head in a microwave.
We, as parents, are not trying to teach them to dodge blame or toss responsibility alongside the clothes that missed their laundry basket. But still, they rapidly graduate up through the grades of Wrong 101. Especially when there are siblings. Ugh! If you're not familiar with the blame game, just know that IT IS NOT FUN. After a while, they may get so good that they can make you wonder whether YOU did it.
–
Facebook
It's not a popularity contest. But I'm only saying that to gain popularity.
Instructional Diagrams
If this didn't make you laugh, these should do the trick.