The average height of a table is 26″-30″ and counters are around 36″. They all have corners and edges that kids' heads are somehow magnetically drawn to when they're passing through this height range.
As a parent it's your duty to protect your child. So obviously that includes making sure they don't bash in their own brains on dining room tables and store counters or other sharp interruptions of their mission to fling themselves spastically around the universe until it breaks or makes a funny sound.
So, we all tend to perform this action instinctively: wrapping our hands around an edge or sharp point that seems destined to make contact with our nearby frolicking children. And sometimes we do it at the speed of light and ninjas. The Pillow Paw.
But, being the pesky little hand-raiser in the class, you may now be asking this question. Why must one study and practice the art of cushioning sharp things with one's hand if we all do it by instinct?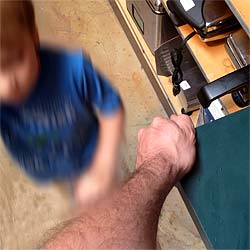 Carpenters wouldn't even need to sand edges if they just hired parents to hang out around unfinished furniture.
Because instincts suck. Plain and simple. They send you bolting into screen doors, smashing your head on the insides of cabinets you're reaching into, and a bunch of other really stupid and painful knee-jerk reactions. Instinctual reflexes are fast for sure, but without trained control they're also like teenaged sex, lacking finesse and coordination, and making promises they just can't keep.
Sometimes, in moving at the speed of light, you accidentally thrash your rescuing fingers or palm – or worst of all, the back of your hand. You know, that awful part where it's all just a whole Lego set of bones and tendons. ARG!!! The back of your hand is like the shin of your upper body. Ten times the pain for any force received.
But when it finally pays off, and there's that moment when your hand provided that emergency padding, the satisfaction of being a good protector may almost seem to lessen the pain that follows your hand being crushed between a missile-like toddler head and the business end of a checkout counter.
Remember, even though toddler-ninjas duck around and crouch most of the time, their ninja parents must also become skilled at The Pillow Paw technique while their kids are still mastering the art of dodging arrows and clothing store shelving. So do what they do and practice honing your instincts. Become one with The Pillow Paw.
–
Ninjabook
Not really. But that would be pretty cool, right?
Ninja Are a Recurring Theme
I'm not a ninja freak. I just play one on the Internet.