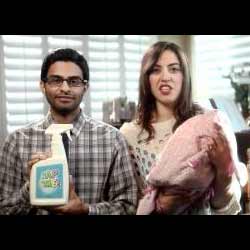 It looks like our "Bad Product Ideas" are starting to catch on around these here internet parts. Someone has created a fake infomercial for "Naptime" – a simple, effective spray solution for kids who throw tantrums that looks surprisingly like a windex spray bottle.
Let's watch…
Don't watch this if you don't want to be pissed off… Trust me.

A word to the creators of Naptime:
You had a good thing going, guys. There were a couple funny parenting jokes. But the "putting a baby in a garbage disposal" and "punching a pregnant woman in the stomach" jokes, etc.? That's just just f*cking pussydoodles. Pretty sure you forgot racism and homophobia in your sketch too. Do you actually have kids?
We may not be the most popular dad blog or the funniest, but we have kids. Those idiotic jokes? Please come over and make them in our vicinity.
——
So, what do you guys think of "Naptime!" spray? Am I just being sensitive like a nipple that's been breastfed on by octuplets?
I've had a rough week. But you all have a great weekend!
Snuggles & Hand Grenades,
Charlie
–
Facebook Party!
It's like Naptime! for your brain.
Our Instructional Diagrams
They're being stolen on the Internet in droves!